The share price of Dangote Cement Plc (DANGCEM) recovered in Thursday's trading session from the price correction of Wednesday, practically handing back the N16.00 deducted dividend to shareholders.
The All-Share Index gained 1.75% to close at 39,461.20 points, while the market capitalization rose by N355.7bn to N20.65tn. With Thursday's gain, the YTD loses improved to -2.0%.
In addition to gains in the most capitalized stock on The Exchange, there were gains in other high cap. stocks too; MTNN (+3.9%) and NB (+1.9%) as well.
Activity level
The activity level improved on Thursday as both the volume and value of traded stocks increased. While the volume of traded stocks rose by 4.3% to 270.68 million units, the value of shares traded increased by 6.3% to N2.03bn.
FBNH was the most traded stock by volume with 51.5m units of its shares exchanging hands. It was followed by TRANSCORP with 42.5m units of shares and EKOCORP with 20.0m units of shares.
Shares of FBNH were also the most traded by value, as shares worth N359.8m exchanged hands on Thursday. DANGCEM (N313.6m), and ZENTHBANK (N217.3m) were the second and third most traded by value respectively.
Performance of Indices
2 of the indices under our watch closed in green, 2 closed in red, while 1 remained flat.
With DANGCEM recording gains, the Industrial Goods Index led the gainers as it advanced by 3.58%.
Insurance Index gained 1.36% on the back of gains in AIICO (+5.7%) and LINKASSURE (+7.0%).
The Oil & Gas Index did not record any movement on Thursday.
Despite the gains in NB, the Consumer Goods Index recorded a 0.22% decline as Investors exited positions in DANGSUGAR (-7.8%) and HONYFLOUR (-3.8%).
The decline in the Banking Index persisted on Thursday, as the index declined by 1.35% on the back of continued sell-offs in GUARANTY (-3.1%) and FBNH (-6.1%).
Investor Sentiment
Investor sentiment as measured by market breadth (gainers/losers ratio) strengthened to 1.4x from the 0.9x recorded in the previous session as 24 stocks advanced against 17 decliners.
Top gainers on the day were; JBERGER (+10.00%), FIDSON (+10.00%), EKOCORP (+9.26%), CHIPLC(+9.09%) and ROYALEX (8.89%).
Top losers were; CWG (-9.84%), MBENEFIT (-7.50%), FBNH (-3.85%), WAPIC (-3.85%) and HONYFLOUR (-3.76%).
Analyst's Outlook
All eyes will be on FBNH following the sacking of its Board by the Central Bank of Nigeria on Thursday. The market index will likely close the week in negative territory, with sell pressures on FBNH.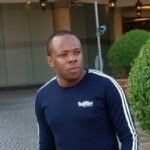 Nnamdi Maduakor is a Writer, Investor and Entrepreneur