The Nigerian Stock Exchange equities market would have recorded its 9th consecutive day of loses, but for Dangote Cement Plc and MTN Nigeria Telecommunications Plc.
The reason for the sell-offs that has persisted in the market was revealed later in the day, as the Debt Management Office on behalf of the Federal Government offered a total of N150 billion FGN bonds for subscription by auction, with the FGN MAR 2027 bond at a rate of 16.2884%. This bond offering reported by Investogist on Thursday would have triggered a pull out from the equities market and a return to the fixed income market.
The benchmark NSE All-Share Index advanced by 0.78% to close at 41,014.30 point on Thursday, while the market capitalization added N166.514 billion to settle at N21.456 trillion. The gain on Thursday was ended a losing streak that started on the very first day of the month of February.
On a day that recorded only 7 gainers against 45 losers, the market was able to record its first positive gain in February because of gains in the share price of the most capitalized stocks on The Exchange; DANGCEM (+7.04%) and MTNN (+1.6%).
The Year-to-Date performance of the NSE All-Share Index improved to +1.85%, with total Investors' gain rising to N399.658 billion.
Activity level
The extent of the sells recorded on Thursday boosted the activity level, with the volume of traded shares increasing by 247.40%, while the value of the shares traded increased by 16.68%.
A total of 1.274 billion units of shares valued at N6.397 billion was traded in 6,573 deals.
The shares of LIVINGTRUST was the most traded by volume with 796.453 million units, accounting for 62.49% of all traded shares.
Shares of TRANSCORP and FBNH were the second and third most traded by volume with 55.749 million and 51.939 million units respectively.
Shares of MTNN was the most traded by value, with shares worth N1.574 billion exchanging hands in 177 deals. ZENITHBANK and GUARANTY trust bank shares were the second and third most traded shares by value with shares worth N885.299 million and N579.712 million respectively exchanging hands in a combined total of 957 deals.
Performance of Indices
Performance of Indices
All indices under our watch except the Industrial Goods Index depreciated in the day's trading session;
Industrial Goods Index advanced by 2.57%, thanks to DANGCEM (7.04%)
Consumer Goods Index declined by 0.32%, as loses in INTBREW and CHAMPION offset gains by UNILEVER
Oil & Gas Index declined by 0.90%, following sell pressures on OANDO (-6.7%) and ARDOVA (-7.5%)
Insurance Index declined by 2.93%, as Investors continue to cash out of its stocks; AIICO (-9.0%), MANSARD (-3.1%), amongst others
Banking Index declined by 2.98% as sell pressure was experienced across multiple banking stocks, including of the bellwether FUGAZ stocks
Investor Sentiment
Investor sentiment as measured by market breadth (advance/decline ratio) weakened to 0.2x from the 0.4x recorded previously as 7 stocks gained against 45 losers.
Top 5 gainers by percentage are;
DANGCEM gained 7.04% to close at N228.00
MBENEFIT gained 5.41% to close at N0.39
SOVRENINS gained 3.70% to close at N0.28
VITAFOAM gained 3.33% to close at N9.30
UNILEVER gained 2.57% to close at N13.95
Top 5 losers by percentage are;
LIVESTOCK lost 10.00% to close at N2.25
LINKASSURE lost 10.00% to close at N0.54
NAHCO lost 9.96% to close at N2.08
NNFM lost 9.88% to close at N7.02
UNITYBNK lost 9.72% to close at N0.65
Outlook
A possible pull-out of funds from the equities market will likely maintain the sell-pressures and therefore a decline in prices of multiple stocks keeping Investor Sentiment low.
This will provide ample entry opportunities for bargain hunters in the coming week.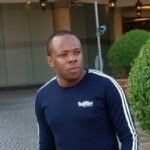 Nnamdi Maduakor is a Writer, Investor and Entrepreneur