Trading on the Nigerian Exchange closed today on a negative note, halting its 4 days bullish run. The losses can be attributed to the drop in the prices of MTNN and UNILEVER.
The benchmark NGX All-Share Index (NGX ASI) lost 0.12% of its value on Tuesday to close at 38,802.15 points. Investors saw N24.5bn of their wealth erased as the market capitalization declined to N20.2tn.
Vitafoam Nig. Plc, Ikeja Hotel Plc, Livingtrust Mortgage Bank Plc, Eunisell Interlinked Plc, and UPDC Plc all released financial statements for varying periods today.
Activity Level
Trading activity declined as average volume and value traded fell by 1.4% and 15.3% to 243.1m units and ₦1.9bn respectively.
Shares of ACCESS was the most traded by volume, as 21.67 million shares exchanged hands. Shares of WEMABANK and UPDC were the second and third most traded by volume with 21.29 million 14.55 million shares respectively.
On the other hand, MTNN shares was the most traded by with shares worth N220.4m being traded. This was followed by GTCO and ACCESS with shares worth N213.5m and N204.4m respectively.
ZENITHBANK led in the number of trades table with 243, followed GTCO with 216 trades and ACCESS with 209 trades.
Performance of Indices under our watch
The performance of the five indices under our watch are as below;
Oil & Gas Index: +1.99%
Banking Index: +0.21%
Consumer Goods Index: +0.11%
Industrial Goods Index: 0.00%
Insurance Index: -0.03%
Investor Sentiment
Investor sentiment as measured by market breadth (gainers/losers ratio) weakened to 1.1x from 1.8x recorded in last trading session as 20 stocks advanced while 19 stocks declined.
Top Gainers:
OANDO gained 9.88% to close at N4.79
CHAMPION gained 9.00% to close at N2.30
FTNCOCOA gained 8.89% to close at N0.49
FIDSON gained 6.73% to close at N6.50
LIVESTOCK gained 6.02% to close at N2.29
Top Losers:
UPDCREIT lost 6.67% to close at N5.60
UNITYBNK lost 6.45% to close at N0.58
NPMCRFBK lost 5.29% to close at N1.61
UPDC lost 5.19% to close at N1.28
CHAMS lost 4.76% to close at N0.20
Outlook
We expect the financial reports for the H1 period to dictate the direction of the market in coming trading sessions.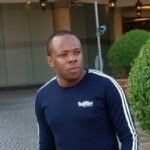 Nnamdi Maduakor is a Writer, Investor and Entrepreneur