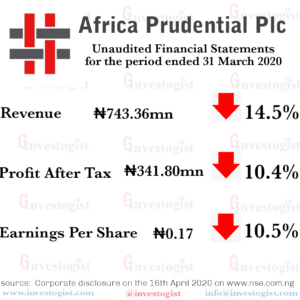 NSE Ticker: AFRIPRUD
Africa Prudential Plc on Thursday became the first company to release it's first quarter financial report for the period ended 31st March, 2020. The Coronavirus Pandemic knocked the revenue of the company by 14.5%, as they saw significant reduction in fees from corporate actions as a result of the postponement of client's Annual General Meetings, and dividend payment in response to the spread of the novel coronavirus in Nigeria. The company was able to cushion this drop in revenue by increasing its revenue from digital consultancy by more than 900%. The jump in revenue from digital consultancy emphasizes the positive result from the company's diversification strategy into digital technology.
With a robust Profit Margin of 46% in the quarter(FY 2019: 44%, Q1 2019: 44%), the company maintained its operational efficiency. This profit margin was helped by the elimination of finance cost that was paid at the same time last year, as the company currently have no borrowings on its balance sheet.
Commenting on the result, Mr. Obong Idiong MD/CEO remarked, "Our focus at Africa Prudential is still driven by our digital transformation strategies, achieving world class superior value for all our stakeholders as we continue to pursue our diversification strategies". Sequel to the release of the Q1 2020 result, AFRIPRUD will be hosting a conference call for Investors and Analysts, further information would be circulated to all in due course.
Africa Prudential Plc was originally incorporated as UBA Registrars Ltd in March 2006. The Company subsequently changed its name to Africa Prudential Registrars Plc in August 2011 and was listed on the Nigerian Stock Exchange in January 2013. To expand its business portfolio, the Company acquired UAC Registrars Ltd in June 2013. To enhance its market competitiveness and diversified business interests. the Company changed its name to Africa Prudential Plc following a special resolution passed by the Members in General Meeting on March 28, 2017. Africa Prudential Plc carries on the business of registrar and investor relation service in accordance with its Memorandum and Articles of Association. As part of its business diversification strategy, it has expanded its business activities to provision of digital solutions for businesses. Its flagship digital solutions product known as EasyCoop is a unique software to aid the administration of cooperative societies in Nigeria and other digital business solutions.
View of Analysts @Investogist
AFRIPRUD has been and remains one of the most consistent performers on the Nigerian Stock Exchange, and despite the challenging times, their Q1 result was within the range of our expectations. At a closing price of NGN3.52 on Friday 17th April 2020, we rate this stock a BUY. Should circumstances that might arise due to the economic crisis expected from the Coronavirus Pandemic and the crash in crude oil price force the price to go further down, we advise a continued accumulation of the stock.
Download the full report here
http://www.nse.com.ng/Financial_NewsDocs/29687_AFRICA_PRUDENTIAL_PLC_FINANCIAL_STATEMENTS_APRIL_2020.pdf
Written by:
Basil Maduakor
Analyst/Writer @Investogist
Disclaimer: Any person accessing this information and considering potential investment opportunities featured on the email should make their own commercial assessment of an investment opportunity after seeking the advice of an appropriately authorized or regulated financial advisor. This information should not be construed as advice or a personal recommendation to any prospective investor.