Dylan Shakespeare Robinson, a 23 years old Minnesota Man has been fined $12 million for his helping set fire to a police station during a protest/riot that followed the death of George Floyd.
Robinson pleaded guilty in December to one count of conspiracy to commit arson for taking part in setting a police precinct in Minneapolis on fire on May 28, days after Floyd, was pinned down and killed by a police officer.
According to a press release by the District of Minnesota's U.S. Attorney's Office Department of Justice, seen by Investogist, Robinson was sentenced today to 48 months in prison for his role in the arsons at the Minneapolis Police Department's Third Precinct building.
According to court documents, on the night of May 28, 2020, Dylan Shakespeare Robinson, 23, went to the Third Precinct where a crowd of hundreds had gathered. At one point, the crowd began shouting, "Burn it down, burn it down." Soon after, a fence that was designed to keep trespassers out of the Third Precinct was torn down. Robinson, along with other co-conspirators, breached the fence and entered the building. Robinson, assisted by an unidentified co-conspirator, lit an object held by the unidentified co-conspirator who threw it toward the Third Precinct building with the intent that it would start a fire or fuel an existing fire.
"On the night of May 28, 2020, Mr. Robinson chose to depart from lawful protest and instead engaged in violence and destruction. The arson at the Minneapolis Police Department's Third Precinct put lives at risk and contributed to widespread lawlessness in Minneapolis," said Acting U.S. Attorney Anders Folk. "With today's sentence, Mr. Robinson is held accountable for his actions."
"ATF is committed to investigating the civil unrest arsons of 2020 that occurred throughout the Twin Cities," said Assistant Special Agent in Charge Jeff Reed, of the ATF St. Paul Field Division. "Arson, being inherently violent, is a serious crime that put many of our community members at risk, and it cannot be tolerated."
"The danger posed by the defendant in this case was very real," said Michael Paul, special agent in charge of the FBI's Minneapolis field office. "Today's sentencing sends a clear message—regardless of motivation, when someone is intent on conducting a violent act that breaks federal law, the FBI and our law enforcement partners will move assertively to hold them accountable. This type of behavior puts public servants and our entire community in danger, and we simply will not let it go unaddressed."
On December 15, 2020, Robinson pleaded guilty to one count of conspiracy to commit arson. As part of his sentencing today, Robinson was ordered to serve two years of supervised release and pay $12 million in restitution.
Co-conspirators Bryce Michael Williams, 27, Davon De-Andre Turner, 25, and Branden Michael Wolfe, 23, have all pleaded guilty to one count each of conspiracy to commit arson for their roles in the arson at the Third Precinct building. They will be sentenced at a later date.
This case was the result of an investigation conducted jointly by the ATF, the FBI, the Minneapolis Police Department, and the Minnesota State Fire Marshal Division.
This case is being prosecuted by Assistant U.S. Attorneys Harry M. Jacobs and David P. Steinkamp.
Robinson's lawyer, William J. Mauzy argues that the sentencing is designed to make his client pay for the "the sentence for the other thousand people who participated."
"Many others, far more culpable than Mr. Robinson, were not identified," said Mr. Mauzy. "He had no role in throwing any molotov cocktails or constructing any or building any."

"There is no realistic chance that he is going to pay anything but a minuscule amount toward that," Mauzy continued. "None of the defendents have an ability to pay a significant sum."
Protests over the death of Geogre Floyd in 2020 at the hands of Derek Chauvin who was convicted on April 20 2021 on two counts of murder and a count of manslaughter in a Minnesota criminal court, had quickly degenerated into violent protests and riots.
It led to destruction of multiple businesses and properties. Business owners who saw their properties destroyed and goods looted will be hoping that similar fines will be passed on those that perpetuated the destruction and looting of their businesses, with some of those monies coming to them as well.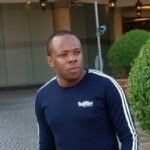 Nnamdi Maduakor is a Writer, Investor and Entrepreneur