Social media space has been dominated by the reported divorce proceedings between PSG defender and Moroccan international Achraf Hakimi and his wife Hiba Abouk.
Debates has raged in many social media platforms around the "registration" of Hakimi's properties and investments under his mother's name and thus leaving little or nothing for the wife to get in the divorce settlement.
Read also; EU will almost certainly return frozen Russian reserves – Reports
The wife was reported to have asked for 50% of Achraf Hakimi's estate as part of their divorce settlement.
But, who is Hiba Abouk and what does she do?
Dailymail UK reported that Hiba Abouk was born in Spain, just as her husband, Achraf Hakimi. She is a 36 years old actress, 12 years older than her husband, who is 24 years.
Hiba's parents came to Spain after emigrating from Tunisia and had four children, with Hiba being the youngest of the four.
She would go on to study Arabic philology and earned a licentiate degree in drama from the Real Escuela Superiori de Arte Dramatico – a drama school in Madrid, Spain.
Hiba would go into the movie industry, landing her first role in a single episode of the TV series El sindrome de Ulises in 2008.
A couple of years later her career would take off as she landed a role in the comedy series La isla de los nominados, followed by a part in the Spanish adaptaion of Cheer.
It was her role, her first leading role  in the popular Spanish crime drama El Principe that made her a household name.
In 2018, at a photo shoot for Vogue Arabia, Hiba met her future husband, Achraf Hakimi, who was playing for Real Madrid at the time.
They would go on to make their relationship public at a charity event in Madrid in June 2019, and by 2020, they were secretly married.
Hiba and Hakimi has two sons together, born in 2020 and 2022 respectively.
Spanish Marca reported that Hiba Abouk is reported to be worth $2 million, a small sum when compared to Achraf Hakimi's net worth of $24 million.
80 per cent of Hakimi's wealth is controlled by his mother, as was revealed amid the soccer star's divorce from actress Hiba Abouk.
Hakimi earns about $1 million per month from PSG, but only keeps about 20 per cent.
The rest of his paycheck, around $215,000 per week, goes straight into his mother's bank account.
Their short marriage could have ended with him giving up $8.5 million. He managed to hide the fact that nothing is in his name.
On Instagram, Hiba has 1.3 million followers and no doubt earns a handsome amount from brand partnerships, promoting products such as Dior perfume.
She also has various charity projects, focused on promoting children's health and welfare.
In October 2022 Hiba and Hakimi graced the cover of Vogue Arabia, and her husband's team have gone on to make history, with Morocco being the first African nation in history to reach the World Cup semi-finals at the 2022 Qatar World Cup tournament.
According to reports, the couple's relationship had been deteriorating for several months. The recent accusations against Hakimi was the final straw that led to the breakup between the two.
Earlier this year, Achraf Hakimi was accused by a woman of raping her at his home in a Paris suburb on February 25, and shortly afterwards French prosecutors launched a formal investigation.
On the 3rd of March 2023, Hakimi was accused by an investigating judge in Paris over an allegation of rape, and placed under judicial supervision. He was forbidden from contacting his alleged victim but allowed to leave French territory. Hakimi's lawyer, however, Fanny Colin, said the player "strongly denied accusations made against himself."
The Spanish actress did not publicly defend her husband when the allegations began, and that could be a pointer towards their struggling relationship.
She reportedly released a statement instead after a month of silence:
"Today I feel duty-bound to make this statement public to express my state of mind and clarify first-hand the misinformation that is circulating. And even when silence can help on certain sensitive topics or issues, I have an urgent need to explain myself, in order to be able to resume my personal, public and professional life in the least harmful and traumatic way possible, protecting my children above all who they are, how can it be otherwise, my absolute priority.
"The reality is that it had been some time since the father of my children and I made the decision to end our relationship, after much thought, long before the events in which I have been involved in the media and of which I am totally foreign.
"After making the decision to legally separate and stop living together, pending the divorce proceedings, who would have imagined that in addition to facing the well-known pain that a separation entails, and accepting the grief that the failure of a family entails to who I had given myself, body and soul, I would have to face this ignominy. I have needed time to digest this shock.
"It goes without saying that in my life I have always been and will always be on the side of the victims, therefore, given the seriousness of the accusation, we can only trust in the good conduct of justice.
"I beg you to respect my privacy and that of my children in these delicate circumstances.
"Thanks to all the people who have shown me their support, affection and respect."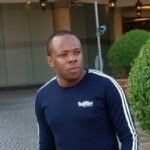 Nnamdi Maduakor is a Writer, Investor and Entrepreneur