The Nigerian Exchange's Equities Market made it 3 days of gains out of three days of trading in the new year, 2022.
The new player on the Block BUAFOODS, which is now the 6th most capitalized stock on the Exchange with a Market Capitalization of N871.20bn, led the gainers chart and also led the index to a positive close.
The benchmark All-Share Index rose by 0.30% to close Thursday's trading at 43,607.94 points. The Market Capitalization rose by the same percentage, adding N70.69bn to its figures to settle at N23.49 trillion.
Activity Level
The activity level waned significantly on Thursday, as both volume and value of stocks traded decreased.
While the volume of stocks traded decreased by 85.93% to 174.61 million, while the value to stocks traded decreased by 95.04% to N2.13 billion.
FBNH, UBA and TRANSCORP Shares were the most traded by volume with 27.09mn, 22.02mn, and 11.99mn shares respectively.
Shares of BUAFOODS, FBNH and ZENITHBANK were the top three most traded shares by value. Shares worth N544.69mn, N307.29mn and N260.60mn  of BUAFOODS, FBNH and ZENITHBANK respectively were exchanged.
Performance of Indices under our watch
The performance of the five indices under our watch are as below;
Banking Index: 0.44% (407.41 Points)
Industrial Goods Index: -0.39% (2010.02 Points)
Consumer Goods Index: -0.12% (583.05 Points)
Oil & Gas Index: -0.90% (350.82 Points)
Insurance Index: -1.35% (196.25 Points)
The YTD performance improved to 2.21%, while the Market Capitalization has now advanced by 5.70%, adding N1.20 trillion. The jump in Market Cap is due to the listing of BUAFOODS.
Investor Sentiment
Investors sentiment as measured by market breadth (advance/decline ratio) strengthened further to  1.8x higher than the 1.3x recorded on Wednesday, as 24 stocks gained while 13 stocks also lost.
Top Gainers:
BUAFOOODS gained 10.00% to close at N48.40
ACADEMY gained 9.09% to close at N0.60
MEYER gained 8.70% to close at N0.50
REGALINS gained 6.67% to close at N0.48
LIVESTOCK gained 6.22% to N2.05
Top Losers:
SUNUASSUR lost 9.76% to close at N0.37
NEM lost % to close at N0.77
FTNCOCOA lost 7.69% to close at N0.36
OANDO lost 5.15% to close at N4.60
UNILEVER lost 3.45% to close at N14.00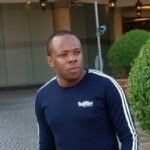 Nnamdi Maduakor is a Writer, Investor and Entrepreneur