Trading on the Equities market of the Nigerian Exchange Limited closed on a high note on Thursday, closing 1.67% higher than it opened.
The magnitude of the gain is attributable to the 7.83% advancement in the share price of Dangote Cement Plc.
At the end of trading, the benchmark All-Share Index stood at 38,585.52 points, with the market capitalization rising above N20 trillion to settle at N20.10 trillion.
Prior to the opening of the market for trading, Total Nigeria Plc released its unaudited financial statements for the period ended June 30, 2021, posting an impressive performance.
BOCGAS equally released its QTR 2 financial statements, reporting a Profit After Tax of N168.43.
Activity Level
Trading activities were mixed on the day, with the volume of shares traded fell by 58.3% while the value of traded shares rose by 41.3%.
A total of 203.11 million shares valued at N1.72 billion were traded in 3,969 deals.
Shares of STERLNBANK was the most traded by volume with 33.80 million shares. This was followed by UCAP and FIDELITYBK with 11.51 million and 33.68 million shares respectively.
The most traded stock by value was that of GTCO with shares valued at N392.12 million exchanging hands.
ZENITHBANK and UCAP shares were the second and third most traded by value, with N246.18 million and N115.10 million.
Performance of Indices under our watch
The performance of the five indices under our watch are as below;
Industrial Goods Index: +4.01%
Oil & Gas Index: +3.11%
Banking Index: +0.31%
Consumer Goods Index: +0.07%
Insurance Index: -1.88%
Investor Sentiment
Investor sentiment as measured by market breadth (gainers/losers ratio) waned to 1.8x from 2.4x recorded in last trading session as 21 stocks advanced while 12 stocks declined.
Top Gainers:
TOTAL gained +10.00% to close at N184.80
CUTIX gained +9.77% to close at N4.38
OANDO gained +9.73% to close at N3.61
DANGCEM gained +7.83% to close at N248.00
COURTVILLE gained +4.55% to close at N0.23
Top Losers:
AIICO lost 8.70% to close at N1.05
SOVRENINS lost 6.45% to close at N0.29
VERITASKAP lost 4.00% to close at N0.24
LIVESTOCK lost 3.55% to close at N1.90
ARDOVA lost 3.23% to close at N15.00
Outlook
We expect the financial reports for the H1 period to dictate the direction of the market in coming trading sessions.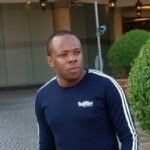 Nnamdi Maduakor is a Writer, Investor and Entrepreneur