The local burse swiftly reversed the loses it's benchmark index, the All-Share Index (NGX ASI) surged to a 1.58% gain on the back of AIRTELAFRI.
The third most capitalized stock on the Nigerian Exchange enjoyed the maximum possible gain on the day, as buying interest increased, with 11.67 million units of its shares valued at N83.42mn exchanged hands in 25 deals. Today marked the first time over 3,000 units of the shares of the telecoms company was traded in 4 days.
With the 609.36 points advancement in the ASI, YTD loses moderated to 2.72%. Investors' wealth grew by N317.48mn as the market capitalization closed Tuesday's trading session at N20.41tn.
Activity Level
There was a huge surge in Trading Activity, with the volume of traded shares advancing by 143.41% and the value of trades gained by 292.59%. 474.52 million units of shares valued at N3.98bn were traded in 4,161 deals.
Banking stocks dominated trading charts on Tuesday, accounting for the first, second and third most traded stocks by volume.
GTCO stocks were the most traded by volume, with 37.28 million units. This was followed by ETI and JAIZBANK with 24.12 million and 18.64 million respectively.
On the value side, GTCO was also the most traded with shares worth N1.04bn exchanging hands. MTNN stocks were the second most traded by value with stocks worth N489.33mn and in third position was ZENITHBANK with stocks worth N16.68mn exchanging hands.
Performance of Indices under our watch
The performance of the five indices under our watch are as below;
Oil & Gas Index: down +0.11%
Banking Index: -0.02%
Industrial Goods Index: -0.06%
Consumer Goods Index: -0.09%
Insurance Index: -0.18
Investor Sentiment
Investors sentiment as measured by market breadth (advance/decline ratio) strengthens to 1.1x from 0.9x recorded in the last trading session as 21 stocks gained while 19 stocks lost.
Top Gainers:
AIRTELAFRI gained 10.00% to close at N715.00
UNITYBNK gained 7.14% to close at N0.60
VERITASKAP gained 4.35% to close at N0.24
COURTVILLE gained 4.17% to close at N0.25
CAVERTON gained 3.89% to close at N1.87
Top Losers:
JULI lost 9.01% to close at N1.01
CHIPLC lost 6.90% to close at N0.54
JAIZBANK lost 4.84% to close at 4.84%
SUNUASSUR lost 4.26% to close at N0.45
LIVESTOCK lost 3.06% to close at N1.90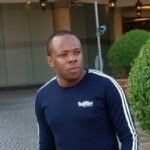 Nnamdi Maduakor is a Writer, Investor and Entrepreneur