Dangote Cement Plc (NGX: DANGCEM), Africa's largest cement producer has moved to enlighten stakeholders and the public on the recent shutdown at its Obajana Cement plant in Kogi State. It did this through a corporate release on the Nigerian Exchange Limited on Thursday, 6th October 2022.
On Wednesday, 5th October 2022, thugs and local vigilantes from the Kogi State Government invaded and sealed Obajana Cement plant over alleged claims of unpaid taxes and Kogi State Government purported equity interest in Dangote Cement Plc, the statement read.
DANGCEM stated that development led to several of our staff being harmed by these thugs and local vigilantes. While the company reassured stakeholders and the public, it stated that it is taking firm action to address the situation.
It reiterated that Dangote Cement Plc will continue to perform its obligations as a compliant corporate organization.
DANGCEM emphasized that the welfare of its staff remains the company's key focus as it work hard to minimise the further impact on its people and operations.
The biggest cement producer in Sub-Saharan Africa maintained that it will remain resolute in transforming Africa while creating sustainable value for the people, communities, investors and customers.
About the company
Dangote Cement Plc is Sub-Saharan Africa's largest cement producer, with an installed capacity of 51.6Mta across 10 African countries. We operate a fully integrated "quarryto-customer" business with activities covering manufacturing, sales and distribution of cement. It has a production capacity of 35.3Mta in Nigeria.
The Obajana Plant in Kogi State, Nigeria, is the largest in Africa, with 16.3Mta capacity across its four lines. The Ibese plant in Ogun State has four cement lines with a combined installed capacity of 12Mta, the Gboko plant in Benue state has 4Mta, and Okpella plant in Edo state has 3Mta.
Through recent investments, Dangote Cement has eliminated Nigeria's dependence on imported cement and has transformed the nation into an exporter of cement serving neighbouring countries.
In addition, it operations in Cameroon (1.5Mta clinker grinding), Congo (1.5Mta), Ghana (1.5Mta import), Ethiopia (2.5Mta), Senegal (1.5Mta), Sierra Leone (0.5Mta import), South Africa (2.8Mta), Tanzania (3.0Mta), Zambia (1.5Mta).
Dangote Cement is Nigeria's second biggest public company by market value, it reported total sales of N808 billion and net profit of N172.1 billion in the first half of the year.
Dangote Cement Plc has 17.04 billion outstanding shares and a market capitalisation of ₦4.17 trillion. At the end of trading on Thursday, it's share price stood at NGN245.00 per ordinary Share.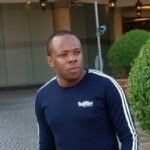 Nnamdi Maduakor is a Writer, Investor and Entrepreneur