The Kogi State House of Assembly has ordered and subsequently shutdown the Obajana Cement Plant over what it says is Dangote's failure to show evidence of a valid acquisition of the Cement Plant from the Government of Kogi State in 2002.
According to information on the Dangote Group website, "Dangote Industries acquired Obajana Cement Plc from Kogi State Government in 2002, though no factory existed at the time."
Dangote Group went on to state that the company commenced the construction of Obajana Cement Plant in 2004, and in 2007 commissioned it with two production lines and capacity of 5 million tonnes per annum. It changed its name from Obajana Cement Plc to Dangote Cement Plc in July 2010.
The government said that a petition by locals prompted an inquiry into the nature of the transaction leading up to the purchase of Obajana Cement Plc by Dangote Industries.
The State Commissioner for Information, Kingsley Fanwo told journalists that "it was found that no valid acquisition took place, as Dangote could not show evidence of what was paid as consideration for the acquisition."
He went on to say that the House of Assembly therefore ordered the closure of the company pending when they are able to present it with credible evidence of a valid acquisition.
Aliko Dangote was summoned by the Kogi lawmakers according to media reports, but he demanded more time to do so.
The company is yet to release an official statement statement in the shut down order from the House Assembly at the time of this report.
Dangote Cement Plc is Sub-Saharan Africa's leading cement company and biggest cement producer, with a production capacity of 48.6 million metric tonnes per year across ten countries.
Dangote Cement is a subsidiary of Dangote Industries, which was founded by Aliko Dangote in 1981, as a trading business with an initial focus on importation of bagged cement and other commodities such as rice, sugar, flour and salt.
In September 2010, Dangote Cement merged with Benue Cement Company and listed on The Nigerian Exchange Limited in October 2010.
Dangote Cement, Nigeria's second biggest public company by market valuhe, reported total sales of N808 billion and net profit of N172.1 billion in the first half of the year.
Dangote Cement Plc has 17.04 billion outstanding shares and a market capitalisation of ₦4.17 trillion.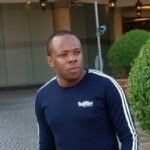 Nnamdi Maduakor is a Writer, Investor and Entrepreneur