On Thursday, the European Union confirmed a sweeping ban on provision of crypto services to Russians as it tightens sanctions in the wake of what it calls "sham" secession votes in four Ukrainian regions.
Russia's President Putin had in the preceding week accepted these regions, all of which applied to become a part of Russia, as four more regions of Russia – Donesk, Luhansk, Zaporizhzhia and Kherson.
The crypto ban is contained in the latest round of economic and political measures against Russian, the eight since the Russian invasion of Ukraine in February 2022. The new measure tightens a previous rule that limited crypto payments to European wallets to 10,000 Euros.
"The existing prohibitions on crypto assets have been tightened by banning all crypto-asset wallets, accounts, or custody services, irrespective of the amount of the wallet," the European Commission said in a statement on Thursday, after proposals it made last week were signed off by EU governments.
The new crypto measure has taken effect on Thursday, and it forbids services being offered by European crypto providers to Russian residents and entities, unless they live in the EU.
An EU official hinted that the blanket ban looks to have been motivated by fears that the existing 10,000 Euro cap was not doing enough to curb payments from Russia, according to a CoinDesk report.
"We realized that transactions were still going on on some scale" even after measures were imposed in April, an EU official said. "We wanted to make sure that these services are not rendered any more" by EU operators.
The plans may rely on copycat measures from other European jurisdictions, added the official, who was not authorized to speak on the record.
Non-EU platforms may follow suit, Forbes Russia warned. After the bloc introduced a limit of €10,000 in April, US-registered Binance, one of the most popular exchanges among Russians, adopted the same measure.
In the eight package of sanctions against Russia, the EU introduced import bans worth €7 billion to curb Russia's revenues, as well as export restrictions, which will further deprive the Kremlin's military and industrial complex of key components and technologies and Russia's economy of European services and expertise.
The sanctions also deprive the Russian army and its suppliers from further specific goods and equipment needed to wage its war on Ukrainian territory. The package also lays the basis for the required legal framework to implement the oil price cap envisaged by the G7.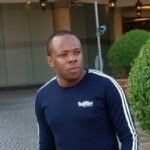 Nnamdi Maduakor is a Writer, Investor and Entrepreneur