Dangote Cement Plc (NGX: DANGCEM) has informed the Nigerian Exchange Limited, its stakeholders and the investing public that its 16.25Mt Obajana Cement plant has re-opened for full operation.
The company in a press release titled "Update on Obajana Cement Plant" stated that the plant re-opened on Friday, 7 October 2022 with suboptimal operations, and became fully operational from Friday, 14 October 2022, when the Federal Government ordered the full re-opening of the plant.
Read also; VACANCY: Italian oil and gas giant, Eni is recruiting into various positions
According to the company, production the Obajana Cement plant is now running at optimal levels.
DANGCEM went further to state that the dispute between the two parties, Dangote Industries Limited and Kogi State Government is being resolved.
The plant, located in Obajana, Kogi State, has been a subject of controversy between Kogi State and Dangote Industries Limited over the legitimate owners of the plant.
Kogi State House of Assembly had on ordered and subsequently shutdown the cement plant earlier in the month over what its said was Dangote's failure to show evidence of a valid acquisition of the cement plant from the Government of Kogi State in 2002.
At its meeting on Friday, 21st October 2022, presided over by President Buhari, the National Security Council reopening of the Obajana plant.
Dangote Cement Plc is Sub-Saharan Africa's leading cement company and biggest cement producer, with a production capacity of 48.6 million metric tonnes per year across ten countries.
Dangote Cement is a subsidiary of Dangote Industries, which was founded by Aliko Dangote in 1981, as a trading business with an initial focus on importation of bagged cement and other commodities such as rice, sugar, flour and salt.
In September 2010, Dangote Cement merged with Benue Cement Company and listed on The Nigerian Exchange Limited in October 2010.
Dangote Cement, Nigeria's second biggest public company by market value, reported total sales of N808 billion and net profit of N172.1 billion in the first half of the year.
Dangote Cement Plc has 17.04 billion outstanding shares and a market capitalisation of ₦4.17 trillion.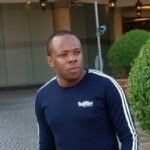 Nnamdi Maduakor is a Writer, Investor and Entrepreneur