Nigeria Center for Disease Control (NCDC) on Friday reported 245 new cases of Covid-19 across 21 states and FCT as follows; 131-Lagos, 16-Jigawa, 13-Ogun, 12-Borno, 9-Kaduna, 9-Oyo, 9-Rivers, 9-Ebonyi, 8-Kano, 7-Kwara, 5-Katsina, 3-Akwa Ibom, 3-Sokoto, 2-Bauchi, 2-Yobe, 1-Anambra, 1-Gombe, 1-Niger, 1-Ondo, 1-Plateau, 1-FCT, and 1-Bayelsa.
As at 22 May 2020, there are 7,261 confirmed cases of Covid-19 in Nigeria with 2,007 recoveries and 221 deaths. Just 41,907 samples have been tested in Nigeria since the out break began according to NCDC.

In the fight against the spread of Covid-19, the importance of testing cannot be overemphasized. Nigeria is lagging behind on testing.
The number of tests conducted per day in a country helps to identify, isolate and treat Covid-19 patients as well initiating contact tracing and quarantining process, which will prevent further spread.
Since asymptomatic persons can transmit the virus, and higher percentage of those infected with Covid-19 are asymptomatic (persons who are infected but do not exhibit symptoms or become sick), massive testing of the population is the only way to detect asymptomatic carriers and isolate them, thereby preventing further spread and protecting the vulnerable.
Read more; WHO will support Madagascar's Covid-Organics clinical Observation in Africa; 339 new cases in Nigeria
The inability to detect asymptomatic individuals with Covid-19 leads to wider spread of the virus and make control more difficult.
It has been a thing of concern that Nigeria with a population of over 200 million people, has tested just barely over 40,000 samples for Covid-19.
African countries are at risk of having undetected coronavirus outbreaks due to low testing rates, according to the International Rescue Committee (IRC). Nigeria, Chad and Mali are listed as having the lowest rate of coronavirus testing in the continent.
David Miliband, President and CEO of the International Rescue Committee, said "these startling figures speak to the dangerous prospect of undetected and potentially  uncontrolled outbreaks in crisis and conflict-affected states."
"Rapid detection is essential for rapid response, and rapid response saves lives. COVID-19 has already brought the strongest health systems in the world to their knees – and we are now seeing virus hotspots growing in parts of Africa, Asia, the Middle East and Latin America"
 The IRC has already warned about the longstanding humanitarian vulnerability and shocking disparity of health system capacity in these states to handle the outbreak. Far from making progress in curbing the outbreak, the lack of testing is a major barrier to even seeing the tip of this global iceberg, let alone its full and devastating scale".
The number of Covid-19 tests conducted by different countries according to Our World in Data is stated in the table below. The population of each country in millions according to worldometer is also stated for ease of comparison.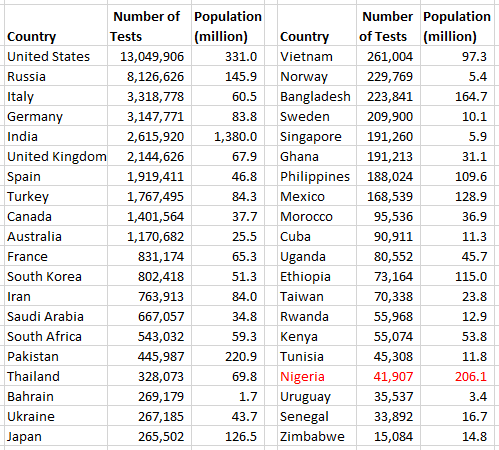 In Zimbabwe, the recent announcement by the country's education ministry about plans to reopen schools, to enable students prepare for the national exam, has been met with opposition from the teachers. The national exam is due to start on 29 June.
Read also; Pakiskan International Airline Plane Crashes in into Residential Area in Karachi
According to the report by the state-owned Herald newspaper, the teachers have said that they would embark on a strike if the government proceeds with the plan, as safety measures were not yet in place to prevent the spread of coronavirus.
Thus, both students and the teachers would be put at risk of contract and spreading the virus.
Sifiso Ndlovu, the teachers' union chairperson was quoted in the paper as saying that if the government proceeded with the plan, teachers would go on strike.
Zimbabwe has recorded a total of 51 cases, 18 recoveries and 4 deaths.
Read more: Only 4 States Generated Internal Revenue Greater Than its Federation Account Allocation in 2019
In South Sudan, 10 ministers have tested positive for Covid-19. All the members of the country's Covid-19 task force have tested positive for the virus except the health minister.
South Sudan Vice President Riek Machar a part member of the task force and his wife Angelina Teny, who is also the country's Defence Minister had tested positive for Covid-19 earlier in the week.
The country have recorded 481 cases, 4 recoveries and 4 deaths.
The confirmed cases of Covid-19 in Africa has passed one hundred thousand. The continent has recorded 100,666 cases, with 39,543 recoveries and 3,105 deaths according to Africa Center for Disease Control.
Globally, 5,159 cases have been confirmed with 1,985,656 recoveries and 335,418 deaths according to John Hopkins Coronavirus Resource Center.
Written by
Ifunanya Ikueze