339 new cases of Covid-19 were reported by the Nigeria Center for Disease Control (NCDC) on Thursday across 17 states and FCT. This brings the total number of confirmed cases in the country to 7,016. Out of which 1,907 persons have recovered and 211 deaths recorded as at 21 May 2020.

The new cases were recorded as follows:139-Lagos, 28-Kano, 28-Oyo, 25-Edo, 22-Katsina, 18-Kaduna, 14-Jigawa, 13-Yobe, 13-Plateau, 11-FCT, 8-Gombe, 5-Ogun, 4-Bauchi, 4-Nasarawa, 3-Delta, 2-Ondo, 1-Rivers, and 1-Adamawa.
No new case was reported in the South East on Thursday. Lack of cases in the region is a good news however it is worrisome considering that only 720 samples have been tested in all the five south east states since the out break began, according to the situation report released by NCDC on 18 May 2020.
Total of 40,043 samples have been tested in Nigeria since the outbreak began.
Top ten states with the highest number of confirmed Covid-19 cases according to NCDC are: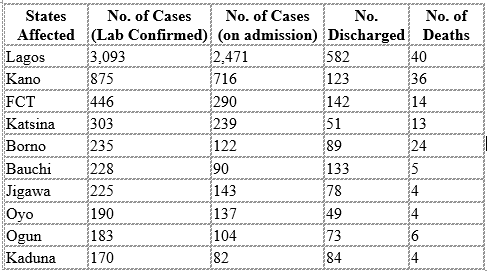 Madagascar President Andry Rajoelina has announced in a tweet on Thursday, that he had a successful discussion with WHO Director-General Tedros Adhanom Ghebreyesus with respect to the country's Covid-Organics.
He said that "WHO will sign a confidentiality clause on the formulation of the drug and will support the clinical observations process in Africa". Madagascar has reported 509 cases of Covid-19, 131 recoveries and 2 deaths.
Successful exchange with @DrTedros who commends #Madagascar's efforts in the fight against #Covid19.@WHO will sign a confidentiality clause on the formulation of the #CovidOrganics and will support the clinical observations process in #Africa. pic.twitter.com/SCZZRDKheV

— Andry Rajoelina (@SE_Rajoelina) May 20, 2020
In Botswana, businesses are being allowed to reopen under strict guidelines after the phased easing of restrictions which started 2 weeks ago were completed on Wednesday night. The country was under lockdown for 48 days.
As businesses reopen government advised people to keep wearing face masks and washing hands.
During a televised briefing on Wednesday, Covid-19 Task Force Co-ordinator Dr Kereng Masupu said that "all lockdown restrictions will be lifted effective from midnight, with only those moving across the designated zones requiring permits to travel,"
"Depending on the coronavirus disease pattern, a return to lockdown will remain an option." Botswana has recorded just 29 cases of Covid-19 with 17 recoveries and 1 death. The country is the Southern African region.
In Tanzania, President John Magufuli is determined to return business back to normal despite the concerns of increasing Covid-19 spread in the country. The president is lifting the measures it imposed to control virus outbreak in the country.
Tanzania has resumed international flights and will not be quarantining new arrivals. Universities and high school students are set to resume on 1 June. Sporting activities are due to restart in June.
Tanzania stopped giving out daily statistics on new infections several weeks ago with the president saying they were creating panic. However, he insists that the country's infection rates have significantly declined.
On 3 May, Investogist reported that Tanzania's President had said the Covid-19 cases in the country might be exaggerated as "Papaya, quail and goat samples returned positive from the Lab".
The Africa Centre for Disease Control and Prevention has "strongly" called on Tanzania to release its latest data on the outbreak.
Since May, more than 100 people arriving from Tanzania have tested positive for Covid-19 in Kenya and been sent back. Similarly, in Uganda, at least 15 Tanzanian lorry drivers have tested positive this month.
According to John Hopkins tally, Tanzania has reported 509 cases of Covid-19, with 183 recoveries and 21 deaths.
In Uganda, the number of confirmed Covid-19 cases have been reduced by almost half, following the instruction from the President Yoweri Museveni's. The instruction requires the health minister to remove all foreign drivers from the tally.
By Wednesday, the country had confirmed 260 cases, according to the World Health Organization but the minister says the number is now 145. Jane Aceng said the count has removed all infected foreign lorry drivers would be added to their respective countries.
On Wednesday, in a tweet Uganda's health minister Jane Aceng announced the downward reversal of the country's total number of coronavirus cases.
Today, 20 May, 2020, 10 new COVID-19 cases confirmed. 9 new cases are truck drivers while 1 case is a contact case.

Following a Presidential Directive of deducting all foreign truck drivers from Uganda's total confirmed case count, the confirmed COVID-19 cases now stand at 145.

— Dr. Jane Ruth Aceng (@JaneRuth_Aceng) May 20, 2020
In Africa, total of 96,829 Covid-19 cases have been confirmed. 38,334 persons have recovered with 3,031 deaths recorded.
Northern Africa region still hold the highest number of confirmed cases in Africa with over 30,000 cases and 1498 deaths. It is followed by West Africa with more than 26,000 confirmed cases and 555 deaths.
Southern region is the third most affected with over 20,000 confirmed cases and 389 deaths. East Africa has confirmed over 10,000 cases of Covid-19 with 285 deaths recorded. Central Africa has recorded over 9,000 cases with 304 deaths reported.
By country, South Africa remains the country with largest number of confirmed cases in Africa, at 19,137, with 8,950 recoveries and 369 deaths.
It is followed by Egypt with 14,229 confirmed cases, 3,994 recoveries and 680 deaths.
In the U.S, a former White House Butler, Wilson Roosevelt Jerman, aged 91 has died of Covid-19. He began working at the White House in 1957 and he served 11 presidents.
In the early 1990s, Jerman retired from the White House. But he returned to work part-time in the Obama White House. He stopped working in 2012 when he truly retired.
Jerman is an African American whose life is the inspiration for the 2013 film, "The Butler."
Former Secretary of State and first lady Hillary Clinton said that she and her husband, former President Bill Clinton, were saddened to hear of Jerman's death.
"Jerman served as a White House butler across 11 presidencies and made generations of first families feel at home, including ours," Clinton said. "Our warmest condolences to his loved ones.
3 countries with the largest number of confirmed cases are:
The global cases have surpassed five million to stand at 5,047,377 with 1,924,231 recoveries and 329,816 death according to John Hopkins Coronavirus resource Center as at 22:47 GMT on Thursday.
Written by
Ifunanya Ikueze