348 new cases of Covid-19 were confirmed across 18 states and FCT on Wednesday by NCDC as follows; Lagos-163, FCT-76, Ebonyi-23, Rivers-21, Delta-8, Nasarawa-8, Niger-8, Enugu-6, Bauchi-5, Edo-5, Ekiti-5, Ondo-5, Gombe-5, Benue-4, Ogun-2, Osun-1, Plateau-1, Kogi-1, and Anambra-1.
Total of 11,166 cases of Covid-19 have been confirmed in Nigeria, with 3,329 recoveries and 315 deaths.
According to the situation report as at 2 June released by NCDC, total of 69,801 samples have been tested for Covid-19 in the country. 33.09% (23,100) of the tests were conducted in Lagos state, 13.89% (9,568) were in FCT, 7.74% (5,331) were conducted in Kano state.
The five South Eastern states; Ebonyi, Imo, Enugu, Abia and Anambra accounts for just 2.44% (1,723) of the tests while only 9 and 3 samples have been tested in Cross River and Kogi state respectively.
Details of the Tests are shown in the last column of the table below.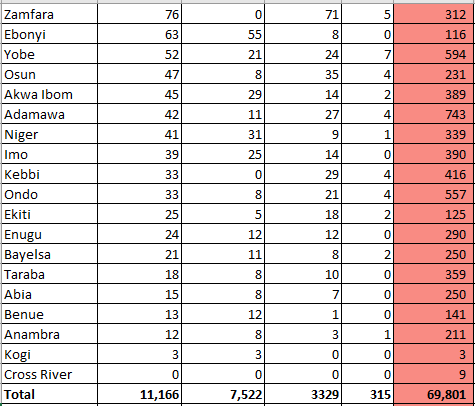 According to NCDC in its 2 June situation report "NCDC has deployed over 440 people to support 34 states and the FCT through our Rapid Response Teams (RRTs) and trained over 13,000 healthcare workers on Infection, Prevention and Control across the Federation."
"These include technicians, ad-hoc staff such as sample collectors, contact tracers and cleaners at the health care facilities."
"812 healthcare workers have been infected in the course of the response, including 29 NCDC staff"
440 people deployed by NCDC to support 34 states equates to 13 persons per state. This number seems to be very small and it is hard to see Its effectiveness.
In River State, following the reports of deaths in Bonny Island, 2 cases of Covid-19 were confirmed in the Island on 30 May. This was contained in a press release, signed by the Executive Chairman, Bonny LGA, Hon. Engr. David Rogers Irimagha on 30 May 2020.
He urged the residents to go about their businesses with care and caution, while abiding by all government regulations just like every other Nigerian guarding against the virus.
However, a resident of the island on Wednesday, told Investogist on the condition anonymity that, "in Bonny Island in Rivers State, they live community life there and at least 3 to 5 persons die everyday. People now switched to herbal remedies because their body resist the regular typhoid and malaria treatment."
"We don't know what they die of, but people who mostly die have preconditions. They die when they get sick of same symptoms"
"They are sick and test positive to typhoid, malaria, pneumonia, and symptoms include fever, loss of smell and taste, cold. And in some cases breathing deficiency."
"my advice to people is, don't take things for granted, protect yourself and practice good personal hygiene and maintain social distancing, use your face mask."
"A lot of people will refuse to use face mask in public places. We lost two close colleagues yesterday, aside the people I don't know"
Listening to these accounts from a resident in the Island is disheartening, especially knowing that only 1,173 samples have been tested for Covid-19 in the entire Rivers State since the outbreak began as at 2 June 2020.
Read also; The Misplaced Priority in Nigeria's 2020 Revised Budget
From the statements of this resident, loss of taste and smell, and breathing difficulty are the symptoms of Covid-19. In addition, mostly those who have "preconditions die", these group of people have been shown to have high risk of death from the Covid-19.
Thus, it is imperative that massive testing is carried out in the island to ascertain the extend of the spread since cases have been identified there.
 Nigeria remains the country with the largest number of confirmed case and deaths in West African Region. 74% of the confirmed cases in Nigeria has unknown exposure according to NCDC. This suggests that, there is high level of community transmission in the country.
Total of 158,318 cases have been recorded in Africa, with 67,680 recoveries and 4,508 deaths.
In Sierra Leone, The International Monetary Fund (IMF) board today approved $143 million to help Sierra Leone meet critical health needs and address the socio-economic impact of Covid-19 in the country.
Sierre Leone has recorded 909 cases of Covid-19 with 491 recoveries and 47 deaths
Read also; IMF approved $3.4 billion loan facility for Nigeria
In Latin America, cases of Covid-19 is rising in Brazil, Mexico, Peru, Chile and Ecuador.
With Brazil having the largest number of cases in the region. Brazil has the second largest number of confirmed Covid-19 cases in the world after the U.S. Peru now has more confirmed cases than France.
In Europe, lockdown restrictions are being eased as the spread of the virus has slowed in recent times. The UK, Italy, Spain, France, Germany along with others, now appear to have passed the peak, with the number of new confirmed cases and deaths falling.
Italy which was once the global epicentre of the outbreak, now has the 6th largest confirmed cases of Covid-19 in the world. It has recorded 233,836 cases. It is behind the U.S (1,849,852), Brazil (555,383), Russia (431,715), UK (281,270), and Spain (240,326).
However, Italy has the 3rd largest number of deaths from the virus. The country has recorded 33,601 deaths behind the U.S (107,099) and UK (39,881).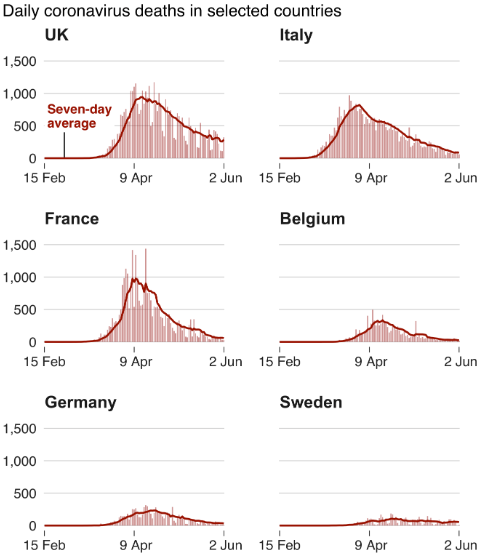 In India, the number of confirmed cases of Covid-19 have continued to rise. India now has more cases than Germany and France. It has the 7th largest confirmed cases of Covid-19 in the world.
India has recorded 216,824 cases of Covid-19 with 104,071 recoveries and 6,088 deaths.
Read Further; Saudi, Russia agree oil cuts extension… Nigeria, Iraq and co. fail to meet their obligations
In the U.S, the rate of new cases is now declining in many states, while in others – including California, and several south-eastern states – it is still rising.
At one point, more than 90% of the U.S population was under mandatory lockdown orders, but all 50 states have now begun to loosen their stay-at-home restrictions and allowed some businesses to reopen – a move health officials fear could further spread the virus.
And mass protests against police brutality following the death of George Floyd have led to warnings from public health experts that crowds gathering could cause a further resurgence.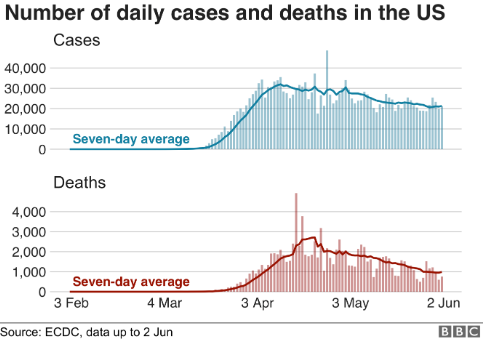 The global confirmed cases stands at 6,393,956 with 2,786,615 recoveries and 383,318 deaths according to John Hopkins Coronavirus Resource Centre.
Written by;
Ifunanya Ikueze