At its 12th Annual General Meeting, Shareholders of Caverton Offshore Support Group (NSE ticker: CAVERTON) approved the payment of 10 kobo per share dividend in respect of the period ended December 31st, 2020.
The resolutions passed at the meeting held on Thursday, 27th May, 2021 was released to The Nigerian Exchange and the investing public on Friday.
First amongst the resolutions passed was the receipt of the Audited Financial Statements of the Company for the year ended 31st December 2020, along with the Reports of the Directors, Auditors and Audit Committee.
The following Directors were re-elected as Non-Executive Directors of the Group;
Mr. Aderemi Makanjuola
Mr. Bashiru Bakare
Mallam Bello Gwandu
The Shareholders also resolved to change the External Auditor of the company to PricewaterhouseCoopers, replacing EY (Ernst & Young), who retired as the Company's Auditor. The Directors were subsequently authorized to fix the remuneration of the Auditors.
Members of the Statutory Audit Committee were duly elected;
Mr. Akin Kekere-Ekun – Non Executive Director
Chief Raymond Ihyembe – Non Executive Director
Mr. Adetola Abiodun Atekoja – Shareholders' Representative
Mr. Friday Ejere Odigue – Shareholders' Representative
Mr. Hakeem Shagaya – Shareholders' Representative
As part of its special business on the day, Shareholders approved the remuneration of Non-Executive Directors for the year ending 31 December 2021, and the company was authorized to engage in recurrent transactions which are of trading nature that are necessary for its day-to-day operations from related companies in accordance with the Rules of the NGX Regulation Limited governing transactions with related parties.
About the Company
Caverton Offshore Support Group Plc  is a limited liabilities company incorporated and domiciled in Nigeria. The registered office is located at 1, Prince Kayode Akingbade Close, Off Muri Okunola Street, Victoria Island, Lagos, Nigeria.
The Group is principally engaged in the provision of offshore services to the oil and gas industry, harbour and general marine operations; and the provision of charter, shuttle and maintenance services of helicopters and airplanes to third parties.
CAVERTON was listed on The Nigerian Exchange on 6th February 2014. It was incorporated on 2nd June 2008.
The company have 3,350,509,750 outstanding shares, and a market capitalization of N6.298 billion.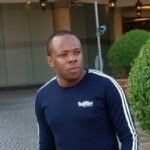 Nnamdi Maduakor is a Writer, Investor and Entrepreneur