The Shareholders of Africa Prudential Plc (NGX: AFRIPRUD) at their Annual General Meeting approved the payment of 50 kobo dividend for every ordinary share of 50 kobo each.
The approval was amongst the resolutions proposed and duly passed at the 9th Annual General Meeting (AGM) of the company held on Wednesday March 23, 2022, at Transcorp Hilton Hotel in Abuja.
On 23 March, the 50 kobo dividend was paid electronically to shareholders whose names appeared in the register of Members as at the close of business on March 11, 2022.
Read also; List of Dividends announced in 2022, qualification and payment dates
With 2 billion ordinary shares of 50 Kobo each, the 50 kobo dividend will sum up to a total dividend of N1.00 billion (One Billion Naira only).
AFRIPRUD reported a profit after tax of N1.41 billion, and an Earnings Per Share (EPS) of 71 kobo for the financial year ended 31 December, 2022.
All resolutions proposed and dully passed at the AGM are;
The Audited Financial Statements for the year ended December 31, 2021, together with the Reports of Directors, Auditors and Audit Committee were laid down before the meeting.
That a dividend of N1,000,000,000 (One Billion Naira only) payable at the rate of 50 kobo for every ordinary share of 50 kobo each, be paid to shareholders whose names appear in the Company's Register of Members as of close of business on March 11, 2022.
That Mr. Emmanuel Nnorom and Mrs Funmibi Chima, who retired as Directors and offered themselves for re – election be and are hereby re – elected as Directors.
That the Directors be and are hereby authorized to fix the remuneration of the external Auditors for the year ending 31 December 2022.
That the under mentioned persons be and are hereby validly elected as members of the Statutory Audit Committee:

Mr. Frank Chikezie – Shareholder
Mr. Tajudeen Adeshina – Shareholder
Alhaji Kabiru Tambari – Shareholder
Mr. Peter Elumelu – Non-Executive Director
Mrs Zubaida Rasheed – Independent Non – Executive Director

That the disclosure of the remuneration of Managers of the Company, as required by Section 238 of the Companies and Allied Matters Act, 2020, be and is hereby approved for information purpose only.
That the remuneration of Non – Executive Directors fixed at N42,500,000 (Forty-two million five hundred thousand Naira only) for the year ending December 31, 2022, be and is hereby approved.
That the Memorandum and Articles of Association of the Company be amended.
Africa Prudential Plc, formerly UBA Registrars Ltd was incorporated as a private limited liability company on
23rd March 2006 to take over the registrar services formally operated as a department by its former parent – UBA Global Market Limited. The company was listed on 17 January, 2013.
The Company renders share registration services to both public and private companies. The Company's registered office address is 220B, Ikorodu Road, Palmgrove, Lagos Nigeria.
Africa Prudential Plc primarily carries on the business of registrar and investor relation service in accordance with its Memorandum and Articles of Association. As part of its business diversification strategy, it has expanded it business activities to provision of digital solutions for businesses. its flagship digital solutions product known as Easycoop is a unique software, which is aimed at aiding the administration of co-operative Societies in Nigeria and other digital business solution.
The company 's competency in digital technology covers advanced Agile and other Software Development life Circle (SDLC) Methodologies, Cyber Security, Cloud Computing, Design thinking / product Development Labs, Blockchain technology, among others. The Company deploys Software as a Service ( SaaS) which are scalable for various sizes of organisations.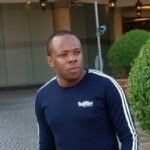 Nnamdi Maduakor is a Writer, Investor and Entrepreneur