Russian energy giant, Gazprom on Wednesday halted the gas supplies to Poland and Bulgaria. The halt was as a result of failure of the two countries to pay for the gas in Russian currency; rubles as demanded by Putin.
In a statement released by Gazprom, it said that it has not received any payments for it's gas since April 1 from Poland and Bulgaria.
"Gazprom has completely suspended gas supplies to Bulgargaz (Bulgaria) and PGNiG (Poland) due to absence of payments in rubles," Gazprom said in a statement.

"Payments for gas supplied from April 1 must be made in rubles using the new payments details, about which the counterparties were informed in a timely manner."
But both Poland and Bulgaria responded immediately to the development, saying Gazprom were in breach of contact.
Bulgaria insisted it has paid for Russian gas deliveries for April, energy minister Alexander Nikolov told reporters.
He said Bulgaria would stick to the European Commission's stance urging countries not to pay in rubles for Russian gas, something Russian President Vladimir Putin had demanded.
"Because all trade and legal obligations are being observed, it is clear that at the moment the natural gas is being used more as a political and economic weapon in the current war," Nikolov said.
While Polish gas firm PGNiG confirmed that Gazprom has "completely stopped" supplies via the Yamal pipeline, adding that customers of the company are still getting the fuel in line with their needs.
"Cutting gas supplies is a breach of contract and PGNiG reserves the right to seek compensation and will use all available contractual and legal means to do so," the company said.
According to a statement from the Polish gas firm, "Gazprom informed PGNiG of its intention to completely suspend deliveries under the Yamal contract at the beginning of the contract day on April 27."
On Tuesday, a Gazprom spokesman announced that "today, Poland is obliged to pay for gas supplies in accordance with the new payment procedure," referring to Russia's demand that "unfriendly countries" buy its gas in rubles.
Poland has refused to follow this procedure, and on Tuesday sanctioned Gazprom, which owns a 48% stake in the Polish company that co-owns the Yamal-Europe gas pipeline. The 4,000km line transports gas from the Yamal Peninsula and western Siberia to Germany and Poland via Belarus.
PGNiG insisted that supplies to consumers would be uninterrupted, with gas in storage and sourced from other suppliers making up the shortfall.
Poland has been one of the staunchest proponents of the anti-Russia sanctions imposed by the US and EU since Russia launched its military operation in Ukraine in February, and has allowed Western weapons to enter Ukraine from its territory.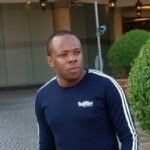 Nnamdi Maduakor is a Writer, Investor and Entrepreneur