The Bulgarian government has indicated that it will not negotiate a new natural gas contract with Russia's state-owned energy giant Gazprom.
Deputy Prime Minister Assen Vassilev disclosed the country's position on Saturday, amid the ongoing war between Russia and Kiev.
Speaking to BNR public radio, he said "In this situation, there's no way there are talks with Gazprom."
There is an existing 10-year gas supply contract between Sofia and Gazprom, the contract is due to run out at the end of 2022. Russia Today reports that Bulgaria receives nearly all of its natural gas supply from Russia.
Also read; Russia-Ukraine War: Russia fires hypersonic missiles in Ukraine
The EU and NATO Member state is searching for alternatives to meet its gas demands. Vassilev revealed that they have been holding talks with third parties;
"We have held talks with both Greece and Turkey," he said, adding that the country may potentially receive natural gas from Azerbaijan through the existing pipeline infrastructure.

"There are alternatives. The old pipes of the Trans-Balkan route," he explained. "There we have a capacity of about 20 billion cubic meters and it can be used in both directions, we need some three billion cubic meters."
Other than bringing in natural gas via existing pipelines in Europe, the deputy prime minister said they are also looking at purchasing liquefied natural gas from overseas.
"There are supplies from Qatar, Algeria. This is pan-European. A common EU-wide gas contract will be discussed at European level in the next one-to-two weeks. We expect this mechanism to be in place in the summer," Vassilev said.
Bulgaria has ruled out providing military aid to Ukraine, taking an opposite position with her fellow NATO and EU member states.
Speaking at meeting with U.S. Defence Secretary Lloyd Austin who is on a two-day visit to Bulgaria, Bulgarian Prime Minister Kiril Petkov said;
"Bulgaria will continue to do everything possible to aid the Ukrainians in this hard war and this huge aggression that the Russian Federation has been inflicting on them," he told reporters.

"But being so close to the conflict, right now, military aid for Ukraine won't be possible."
Russia invaded Ukraine in late February 2022, and is now demanding that Ukraine officially declare itself a neutral country that will never join the NATO military bloc. Ukraine says the Russian invasion was unprovoked.
Russia and Ukraine are currenting negotiating for an end to the war, and a peace agreement.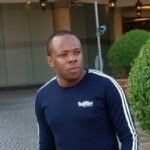 Nnamdi Maduakor is a Writer, Investor and Entrepreneur