Gazprom has announced on Friday the indefinite suspension of natural gas supplies to the European Union via the Nord Stream 1 pipeline.
The Russian energy giant said that due to technical malfunctions, the flow of natural gas to the EU which was to be restored on Saturday, September 3 following repairs on its sole operating turbine will no longer be happening.
Read also; Russia set to receive $10 billion as dividend from Gazprom after record profits this year
It stated that it received a warning from Russia's industrial regulator Ristekhnadzor about the failure of the turbine which was reportedly detected during maintenance work.
Repairs on the Nord Stream 1 pipeline were originally scheduled from August 31 until September 3, prompting a full shutdown of gas flows to the EU.
Gazprom also said that it has informed German manufacturer Siemens about the turbine failure and the need for an overhaul.
Alexey Miller, Gazprom CEO has however warned that sanctions imposed on Russia by the European Union and her allies over the Russian invasion of Ukraine could obstruct Siemens Energy from carrying out regular maintenance of Nord Stream 1's equipment.
Since July, the Nord Stream 1 pipeline has been operating at reduced capacity due to the shutdown of several gas turbines. Some were sent to Montreal for repairs and were stuck there due to Canadian sanctions on Russia over the conflict in Ukraine. At Germany's request, Ottawa announced an exemption for the turbines in July, and returned one turbine, but Gazprom refused to take delivery, citing irregularities in the documentation.
Meanwhile, the newly-built Nord Stream 2, whose pipelines are fully loaded according to prior statements by Gazprom, stands idle as Germany has refused to certify it for operation.
The Nord Stream 1 pipeline stretches 1,200km (745 miles) under the Baltic Sea from the Russian coast near St Petersburg to north-eastern Germany.
It opened in 2011, and can send a maximum of 170m cubic metres of gas per day from Russia to Germany.
In May, Gazprom closed the Yamal gas pipeline, which runs through Belarus and Poland and delivers gas to Germany and other European nations.
Gas prices has soared in the EU since Putin ordered Russian Soldiers to conduct "special military operations" in Ukraine and NATO and it's allies responded with sanctions that were supposed to starve Putin of money to fund the war.
BBC reported on Wednesday, 31st August, that gas prices are now approximately 459% higher than they were at the same time in 2021.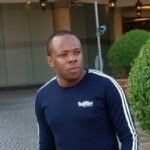 Nnamdi Maduakor is a Writer, Investor and Entrepreneur