Commercial Aircraft manufacturers, U.S's Boeing (BA.N) and Europe's Airbus (AIR.PA) has halted the supply of components and provision of services for Russian airlines.
Boeing said it had "suspended major operations" in Russia, where it also has research and engineering centres.
Airbus said it is halting supply of parts and services to Russian airlines. It said it is also analysing whether is Moscow engineering centre could continue providing services to local customers.
Following the sanctions on Russia across Europe and NATO allies, western lessors are also looking to repossess jets that are operated by Russian carriers.
Read also; US legislation to allow private U.S citizens seize Yachts, Planes & properties of Russians
Lessors have until March 28 to wind up contracts under EU sanctions, but industry executives have expressed concern over whether Russian airlines and courts would comply.
Some 515 planes in Russia are leased from foreign companies, according to Cirium. There are now fears that Russian airlines would cannibalize parts from these leased planes.
Many airlines re-use parts from their own planes, but there have been complaints in the past that struggling airlines elsewhere have taken parts off leased planes, which are off-limits.
Russia's flagship airliner, Aeroflot and other carriers are facing western crackdown as the effects of sanctions over Russia's invasion of Ukraine.
Russia accounted for 6% of airline capacity in 2021, according to consultants IBA.
Its airlines have a total of 332 Boeing and 304 Airbus jets, or about two thirds of Russia's fleet, Cirium Fleets data shows.
In his state of the Union Address, U.S President Joe Biden said that the United States would follow the European Union and Canada in banning Russian fights.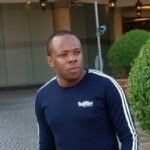 Nnamdi Maduakor is a Writer, Investor and Entrepreneur