Poland has ramped up its bid for reverse gas supplies from Germany on Wednesday, in its first response to the halting of deliveries of Russian gas.
On Wednesday, Russian energy giant, Gazprom halted the gas supplies to Poland and Bulgaria, as a result of the failure of both countries to pay for the gas in rubles.
Also read; Ukraine-Russia War: Germany's BASF will shutdown world's largest chemical plant if…
Data from the German operator of the gas transmission network Gascade show that Poland's bid for April 27 was 1.232 million cubic meters per hour, while the day before it was just 237,000 cubic meters.
According to a Gazprom, supplies will not resume until Warsaw complies with the new terms. Deliveries were also halted to Bulgaria, for the same reason.
Gas flows from Germany to Poland via the Yamal-Europe pipeline, which usually sends Russian gas west into Europe. The pipeline accounts for about a sixth of Russia's annual gas exports to Europe and Turkey.
Gazprom has warned that if Bulgaria and Poland try to tap into Russian transit gas intended for other countries, the producer will reduce supplies by the amount Sofia and Warsaw illegally withhold.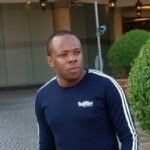 Nnamdi Maduakor is a Writer, Investor and Entrepreneur