When banking stocks on the Nigerian Stock Exchange is being discussed by participants and observers alike, one stock is usually left out. When we first mentioned NPF Microfinance Bank Plc to an avid Investor in banking stocks, the response we got was, "NPF What?"
NPF Microfinance Bank Plc. ("the Bank") is a public limited liability company domiciled in Nigeria. The Bank's registered office is at Aliyu Atta House, 1 Ikoyi Road, Obalende, Lagos. The Bank is engaged in the provision of banking services to members of the Police community, to poor and low income households and microenterprises of the public at large. Such services include retail banking, granting of loans, advances and allied services.
The Bank currently operates from its registered office and has thirty-five (35) branches located at Obalende, Ikeja, Garki-Abuja, Wuse-Abuja, Port-Harcourt, Kano, Osogbo, Benin, Akure, Onitsha, Sokoto, Lokoja, Lafia, Bauchi, Yola, Enugu, Kaduna, Oji River, Ibadan, Abeokuta, Ikorodu, Tejuosho, Asaba, Calabar, Aba, Aswani, Awka, Port Harcourt 2, Jos, Ilorin, Minna, Uyo, Owerri, Ekiti and Makurdi.
The Nigerian Police Force (NPF) Microfinance Bank has two major shareholders; Nigeria Police Co-operative Society Limited owns 64.75% of outstanding shares and NPF Welfare Insurance Scheme own 10.25%.
The Bank released its Annual Financial Report for the period ended 31st December, 2019 and proposed a final dividend of 20kobo per 50kobo ordinary share, subject to appropriate withholding tax. The qualification date for the dividend is set at 16th June 2020, while the payment date is set at 30th June 2020.
With the share price closing at N1.23 in the last trading session on the floor of the stock exchange, the declared dividend will represent an impressive dividend yield of 16.2%. This year's dividend is a 300% improvement on the 5kobo dividend paid to shareholders last year.
The good story is that such a high dividend payout is the norm for this often neglected stock, while the 5 kobo paid last year is the unusual one. In the past 5 years, the bank had paid 15 kobo in 2016, 15 kobo in 2017, 17 kobo in 2018, 5 kobo in 2019 and now 20 kobo in 2020.
How about their profitability you might ask, it is rock solid and has been growing along with its gross earnings except for the 2018 financial year, as can be seen in the 5 year annual report summary shown below.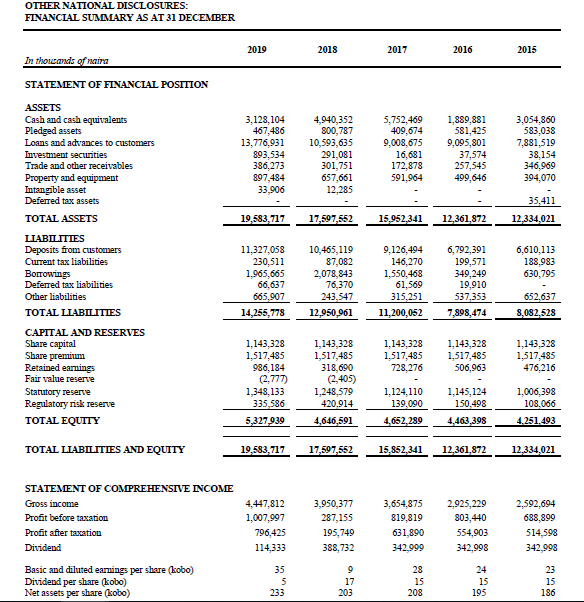 What happened in 2018 you might ask that saw its profit after tax drop by 69%?
In the 2018 financial year, there was a case of fraud in the bank involving a middle management employee of the Sokoto Branch of the Bank. The Bank lost the sum of N266.48 million from the fraud. A sum of N35.5 million was recovered, while the remaining balance was fully written off during the year.
The bank has since strengthened the key controls and procedures surrounding its operations, to forestall future recurrence.
A review of the bank's annual report shows that, the bank grew their PAT by 306%, from just a gross earnings growth of 12.59%.
NPF Microfinance Bank Plc has 2,286,637,766 outstanding shares, and a market capitalization of N2.81 billion.
Analyst's view
If you are looking for consistent dividend returns, then NPF Microfinance Bank Plc shares is one that should be in your portfolio. Our analysis of its recent results put a fair price of between N1.16 and N1.40 on the stock. Even at the upper price range, the stock will still maintain a dividend yield above 10%.
The stock price is up 6.96% YTD, and down 16.33% YoY. At the height of the market bear run in March, the stock traded as low as N0.85.
As we called it earlier, it is a police bank, that literally guarantees a rock solid customer base, so irrespective of what Mr. Market does, NPFMCRBK will maintain its BUY rating, and should it go below N1.16, we would change the rating to ACCUMULATE.
Written by;
Nnamdi M.
Disclaimer: Any person accessing this information and considering potential investment opportunities featured here should make their own commercial assessment of an investment opportunity after seeking the advice of an appropriately authorized or regulated financial advisor. This information should not be construed as advice or a personal recommendation to any prospective investor.