The number of confirmed Covid-19 cases in Nigeria, increased by 242 as reported by the Nigeria Center for Disease Control (NCDC) on Monday 11 May, 2020. The new cases were confirmed across 13 states and FCT as follows; 88-Lagos, 64-Kano, 49-Katsina, 13-Kaduna, 9-Ogun, 6-Gombe, 4-Adamawa, 3-FCT, 1-Ondo, 1-Oyo, 1–Rivers, 1-Zamfara, 1-Borno, and 1-Bauchi. 
This brings the total number of confirmed cases in Nigeria to 4,641.  The country has recorded 902 recoveries, and 150 deaths.
The ten states with the highest number of confirmed Covid-19 cases in Nigeria are;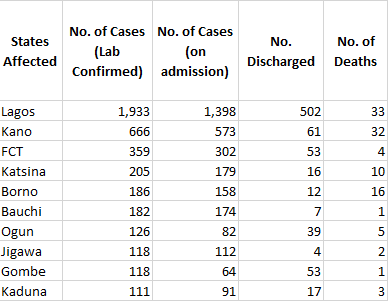 Lagos state remains the worst affected state followed by Kano state. However, cases have been rising in the Northern part of Nigeria. Eight out ten states with the highest number of confirmed cases of Covid-19 in Nigeria are in the North.
According to the data available on NCDC website, a total of 27,078 samples have been tested in Nigeria since the outbreak began.
President Muhammadu Buhari has given an order, for the Nigeria's allocation of the Madagascar's Covid-Organics to be airlifted to the country from Guinea Bissau. This was made known by the Secretary General to the Federation, Boss Mustapha. He also said that the acclaimed cure for Covid-19 would be put to appropriate tests before use.
"The President of Madagascar sent it to Guinea Bissau. Certain allocations have been made to different countries. We have an indication of the quantities that have been allocated to Nigeria and we are supposed to make arrangements to freight it out of Bissau to Nigeria," stated Mustapha
Guinea-Bissau had received a shipment of Covid-Organics from Madagascar on 2 May, 2020. Covid-Organics is made from a plant with a proven use for malaria treatment known as artemisia and other locally sourced herbs. Covid-Organics is being promoted by the country's President, Andry Rajoelina as a cure for Covid-19.
However, it has not been approved by the World heath organization (WHO). The organization said, there was no basis to claim Covid-Organics was an effective treatment of Covid-19, as it is yet to receive any data backing such claims.
In River state, Governor, Nyesom Wike has announced the temporary lifting of the controversial total lockdown he imposed on Obio/Akpor and Port Harcourt Local Government Areas for two days only – Tuesday 12 May and Wednesday 13 May 2020.
He made the announcement on Sunday Night, saying the temporary lifting of the lockdown is for residents to restock foodstuffs and medicines to their homes. Governor Wike said that the lockdown will be reinstated on Thursday, 14th May, 2020
In FCTA, a four-storey building for Covid-19 isolation and treatment center, with 509 bed capacity has been commissioned at Idu Railway Station, Abuja. According to FCT Minister, Muhammad Bello, the facility was an intervention by the private sector and coordinated by Ministerial Expert Advisory Committee on Covid-19.
According to the African Center for Disease Control, 64,214 cases of Covid-19 have been confirmed in Africa. 22,243 recoveries have been recorded in the continent with 2,293 deaths. South Africa remains the worst affected country with over 10,000 confirmed cases, followed by Egypt with 9,400 confirmed cases.
In Saudi Arabia, the Finance Ministry on Monday announced that the monthly allowance paid to its citizens would be suspended from June and VAT would be increased from 5% to 15% with effect from July. The country is struggling with the grilling effect of the Covid-19 lockdown coupled with the decline in oil prices.
Saudi Arabia has reported 41,014 confirmed cases of Covid-19. The Kingdom has recorded 12,737 recoveries with 255 deaths from Covid-19.
Russia has overtaken Italy, to take the fourth position as the country with highest number of confirmed cases behind United Kingdom, as new confirmed cases in Russia continues to rise. The country has recorded 221,344 confirmed cases of Covid-19, with 39,801 recoveries and 2,009 deaths.
The U.S remains the worst affected country as the death toll passes 80,000. The death toll in the country is more than UK, Italy, Germany, Canada, and Russia combined. The United States also has more confirmed cases of Covid-19 than Spain, UK, Russia, Italy, France, Germany, and Canada combined.
The United States has recorded 1,344,512 confirmed cases of Covid-19 with 216,169 recoveries and 80,087 deaths.
Globally there are 4,159,377 confirmed cases of Covid-19 recorded, with 1,433,990 recoveries and 284,883 deaths as at 21:26 GMT on Monday, according to John Hopkins Coronavirus Resource Center.
242 new cases of #COVID19;

88-Lagos
64-Kano
49-Katsina
13-Kaduna
9-Ogun
6-Gombe
4-Adamawa
3-FCT
1-Ondo
1-Oyo
1–Rivers
1-Zamfara
1-Borno
1-Bauchi

4641 cases of #COVID19 in Nigeria
Discharged: 902
Deaths: 150 pic.twitter.com/2eK1cRJeH0

— NCDC (@NCDCgov) May 11, 2020
Written by;
Ifunanya Ikueze