Today we will be discussing the topic "Building a Business based on Local content-Lessons for a would-be Entrepreneur".
I succeeded to outline the presentation into five (5) sub sections, these include;
What do we mean by local content?
Local content policies in Nigeria
Companies practicing Local content manufacturing in Nigeria. (NUTABOLTS TECH. LTD, a case study)
Challenges encountered by local manufacturers/ Testimonies
Lessons for a would be entrepreneur and then Conclusions
A country's economy is progressive and sustainable if its economic fundamentals are strong. With proper governance, a country's labour market and resources can be to be utilized efficiently to fulfil its economic requirements.
Generally, the Nigerian state has been faced with various economic, social, political, educational, and
developmental problems in all sectors of the economy. These problems have eventually led to poverty, corruption, kidnapping, unemployment, stealing, terrorism, militancy, and armed robbery amongst others.
In other to tackle these challenges facing the nation, the Federal Government of Nigeria, under the leadership of President Goodluck Ebele Jonathan (GCFR), in March 2010 signed into law the Nigerian Local Content Act which aimed at promoting industrialization of the nation's oil and gas industries/manufacturing industries and thereby improving the economic and social well-being of citizens engaged in the industries.
What is Local Content?
Local Content is a strategy where a country's fundamentals are used to attain a significant level of socio-economic progressiveness and sustainability. Although the Local Content strategy is used in many
countries, there is no universally agreed definition for it. The definition is specific to each country and depends on its micro and macro-economic conditions.
NB: It may be noted that the Nigerian Local Content Act defines Local Content as "the quantum of composite value added to or created in the Nigerian economy by a systematic development of capacity and capabilities through the deliberate utilization of Nigerian human, material resources and services in the Nigerian oil and gas industry" and or manufacturing Industries.
There are many definitions of Local Content; however, we need to focus on the locally added value and contribution of the local labor force in the creation of goods and services.
You can download the local content act by clicking here.
Lets look at manufacturing business generally in Nigeria.
Manufacturing in Nigeria
According to the National Bureau of Statistics (NBS), the Nigerian manufacturing sector is dominated by the production of food, beverages and tobacco, with sugar and bread products generating the greatest value of output.
To encourage more output in these and other sectors, the government has been making it cheaper for consumers to purchase locally manufactured goods by making the smuggled foreign alternatives prohibitively expensive or totally unavailable through prohibitions. Central Bank of Nigeria (CBN) facilitates the efforts of the Federal Government by issuing lower interest rate loans to firms operating in the agriculture and manufacturing sectors.
Port reforms and other ease of doing business initiatives by the government are also helping to make the manufacture of goods easier in the country; relatively, at least. Owing to reforms, Nigeria's ease of doing business ranking moved to 145th place in 2017 to 131st place in 2019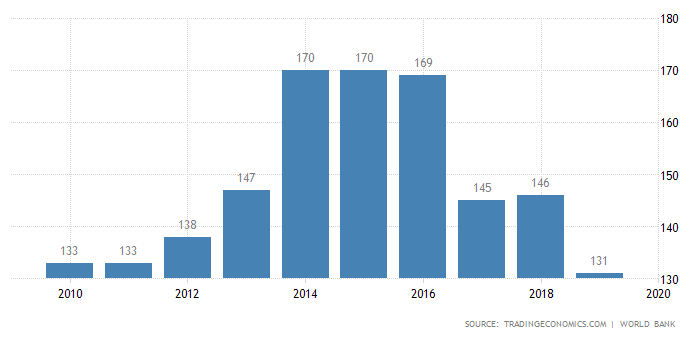 Fig 1: Chart showing ease of doing business in Nigeria 2010-2019
The Nigerian manufacturing sector has been having mixed performance in recent years as can be seen from the data shown in fig. 2 below.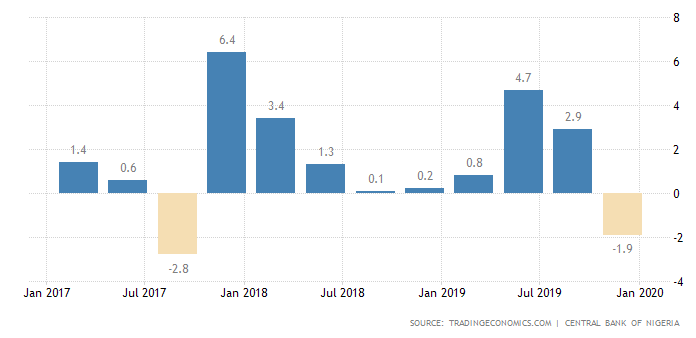 Fig 2: Nigeria Manufacturing Production Jan 2017 – Dec 2019
Now, we have spoken enough grammar, lets look at the reality!!!
About a 2 years back, I founded a company named the NUTABOLTS TECHNOLOGIES LTD. The aim of this company is to utilise our local materials and turn them into products. Our goal is to be an automobile giant in Africa and beyond.
But the question is "How easy do we make this dream a reality"? Especially when our location is Nigeria.
I took time to study why manufacturing companies don't last in Nigeria and i came up with a perfect strategy to overcome these challenges.
NUTABOLTS TECH. LTD currently produces Automobile brake pads from groundnut shells and other biowaste though not yet in commercial quantity.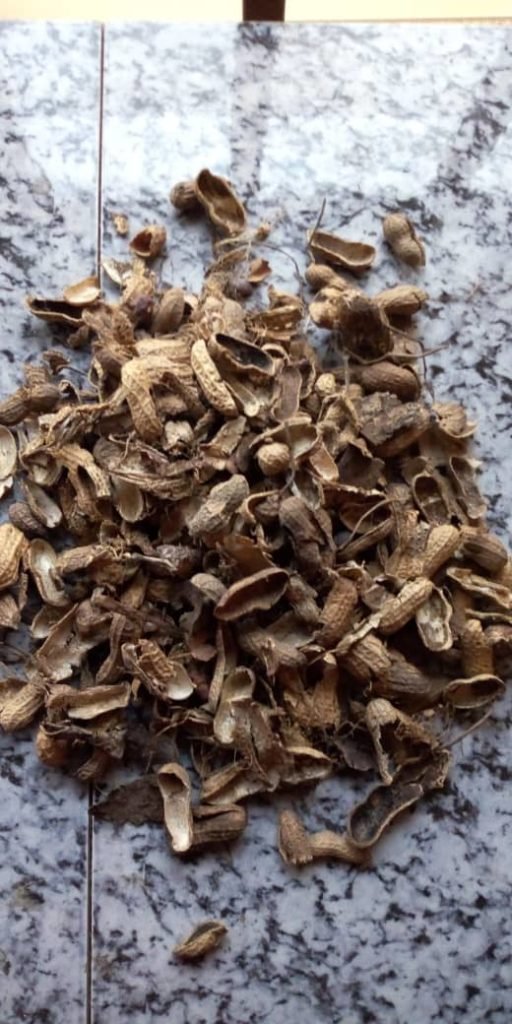 Fig 3: Groundnut shells – Raw material used in the production of brake pads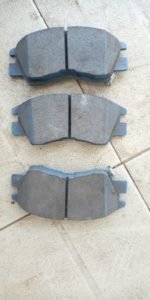 Fig 4: Brake pad samples
Our product stands out from others as it is geared to replacing commercial brake pads in the market made from asbestos. This already has been sanctioned by Society of Automotive Engineers (SAE) due to the fact that asbestos is cancerous.
Other products we have are;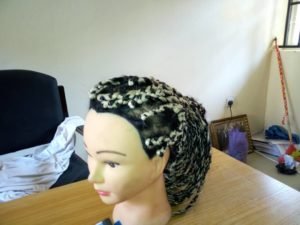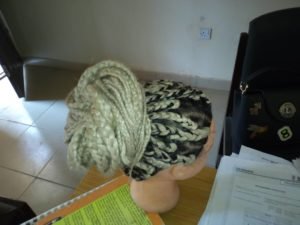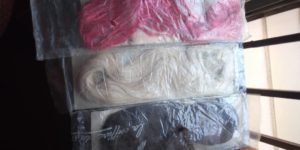 Fig 5- 12: bana weaves from plantain and banana stem
Lets talk about my challenges;
Manufacturing in Nigeria is beset with quite a few challenges; chief among them is power supply. Most firms rely on "emergency" power generators to run seamless operations, adding to costs.
There are also regulatory issues, a multiplicity of taxes, and trade facilitation issues, among others.
The country's infrastructural deficiencies are also a major constraint. Export processing zones and special economic zones are the government's workaround towards removing or mitigating this constraint.
Just like other manufacturing industries, the above are some of the most frequently faced challenges. But I found out other challenges facing local content makers. They include;
Link with genuine research firms/centers that will keep on developing and fine tuning their ideas.
Adapting to codes and standards of research and production of various products.
In my own case, I was able to first create a genuine non biased research lab and at present we have a lot of improvements on our products. Just for time, I will not show case all our products but all our products are made from local technology.
I can beat my chest and tell you that we have completed the manufacture of the full brake system lines.
Again, partnership with foreign companies is necessary for beginners. In sum, I believe that if there is any to be entrepreneur reading this, he or she must have learnt some lessons about starting up such business.
The Nigerian government is also promoting local content by encouraging the sourcing of raw materials and spare parts locally, leveraging public procurement of locally manufactured goods (with targets for MSME participation), and via a "Made in Nigeria" campaign.
For the promotion of innovation and technology-led industries, the government's plan includes the provision of fiscal incentives for private investment in research and development (R&D), improvement of intellectual property enforcement procedures, promotion of science parks and innovation hubs, encouragement of private equity and venture capital players through an attractive fiscal and regulatory framework.
Conclusion
Clearly, manufacturing is challenging in Nigeria. But there is a clear desire by the government to encourage more of it through import bans, facilitation of cheaper funding, discriminatory foreign exchange policies, and so on.
The government's ERGP focus labs are also one of the ways the authorities are using to accelerate more investment in production. Interested companies, whether local or foreign, would do well to key into these government's initiatives to ensure they get the support they are definitely going to need to succeed.
A good place to start for any firm looking to invest in manufacturing is certainly the authorities' imports prohibition list. And like the case of cement manufacturing earlier highlighted, there is clearly a strong correlation between the sector's boom and protection measures by the government.
Thank you.
Written by:
Engr Ifeanyi Onyenanu