Price action analysis using the daily time frame as base.
EURUSD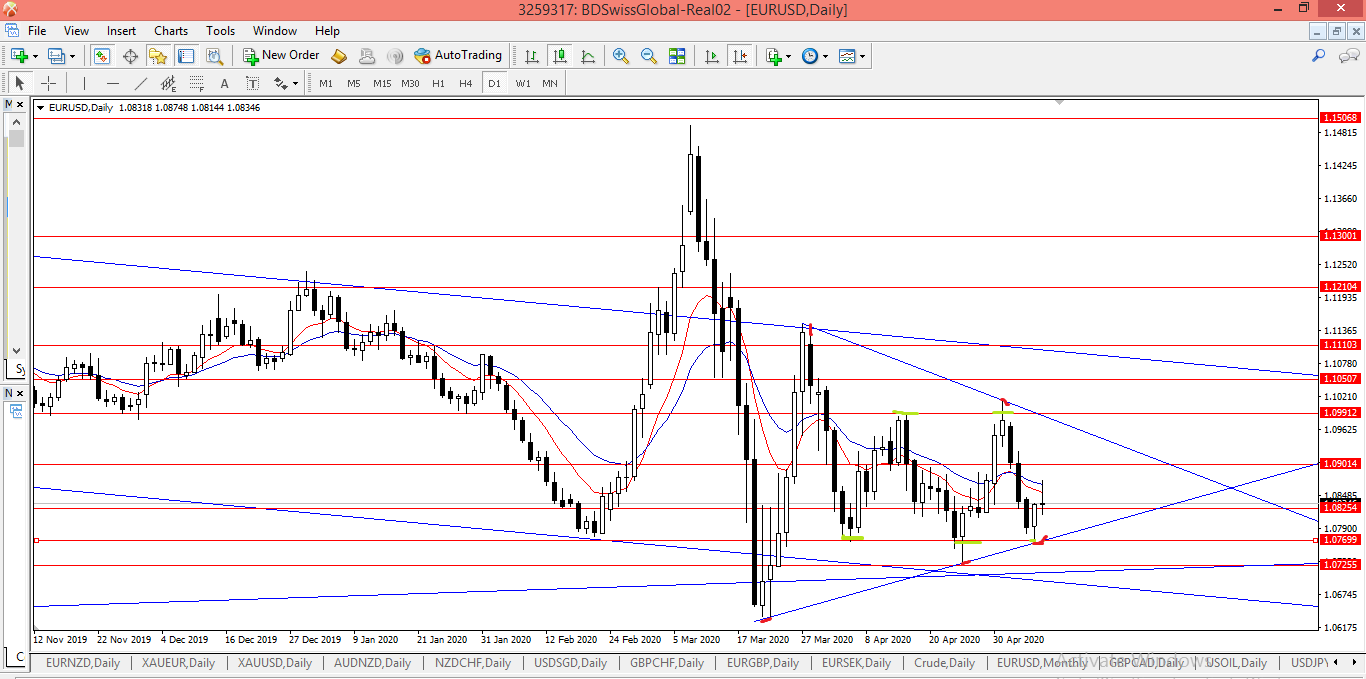 EURUSD did not head above the 1.0990 resistance as the pair continued on its sideways movement. In the preceding forecast, I anticipated a close above 1.0990 or a sell signal from 1.0990 these scenarios would have given us a clear direction, neither happened. It would have been incredibly difficult to trade as the pair moved from support to support.
I believe the EURUSD needs more time to set up and make a decision. EURUSD is range bound within 1.0990 and 1.0770 horizontal levels; it is also consolidating within a wedge. You may want to try and follow the swing from smaller wedge support to resistance but this will be a risky venture as entry and exit will be difficult to determine and the risk to reward will be completely unfavorable. We need to see it break out of this patterns to give a clear direction.
Last week I highlighted a multiyear wedge on the monthly time frame we should keep that in mind pending what happens at month end or in June.
GBPNZD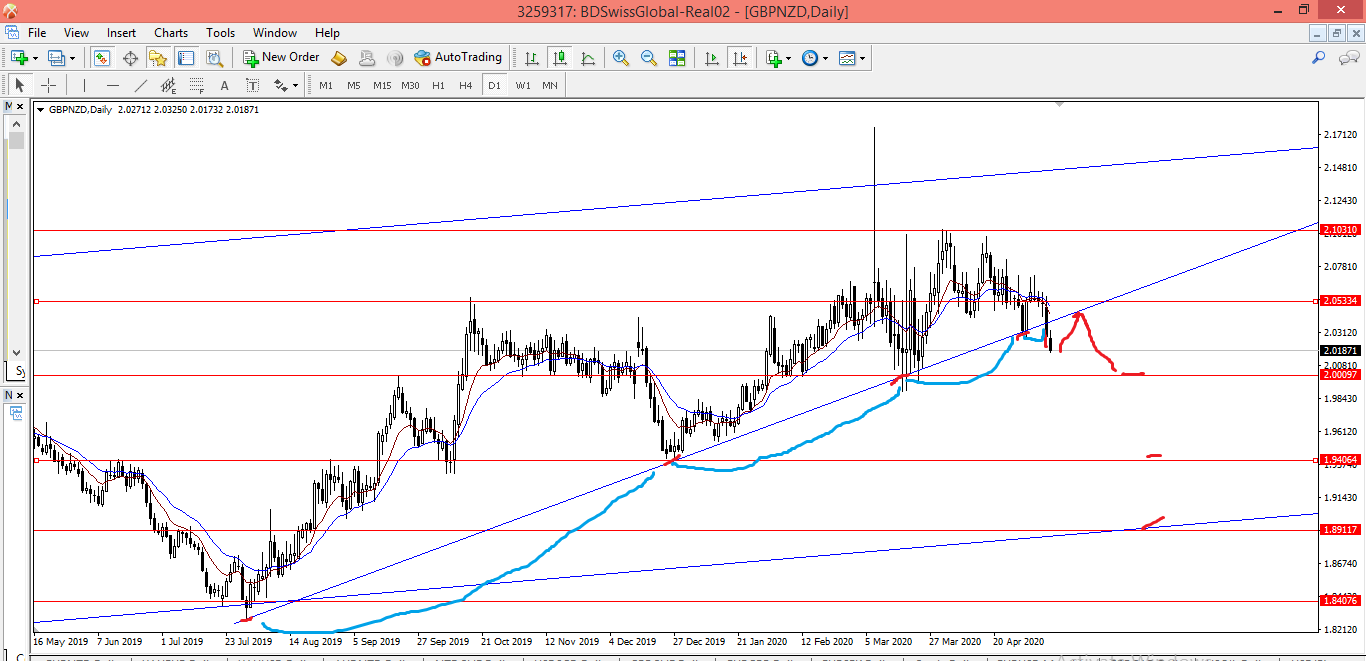 Daily chart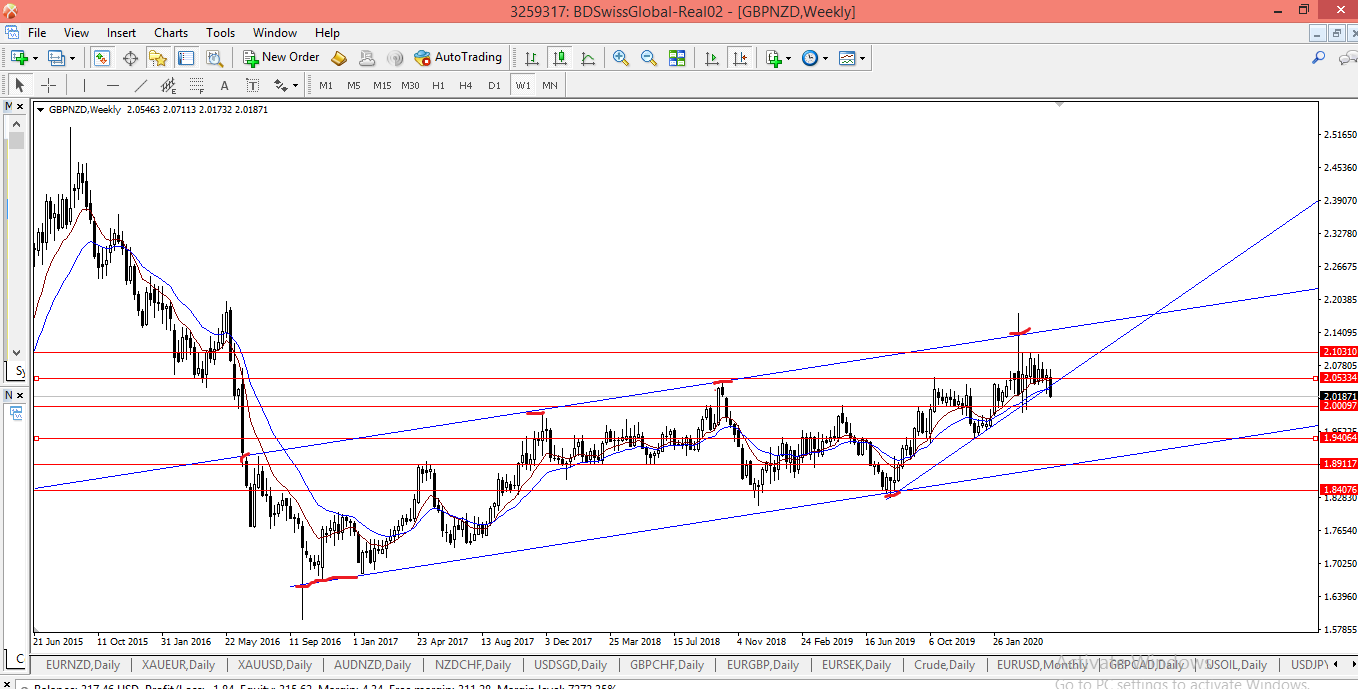 Weekly chart
GBPNZD finally broke away from an ascending trend line that has been in play since July of 2019. This trend line is within a larger four year old ascending channel dating back to October of 2016. Notice the space between each test of trend line support and the next, it gets smaller and also notice the cluster price action before the breakout. That's how you can read trend line price action to know when it will most likely breakout.
This is a short opportunity, we are yet to get a retest of the trend line it will be best to wait for a possible rounded retest in the days ahead because it will provide the perfect R-RATIO . On the way down we have support levels 2.00, 1.940 and confluence of support of near 1.8910.
However, there are no guarantees that GBPNZD will sell off, so in a situation that it comes up back into the trend line that will negate the bearish outlook.
GBPUSD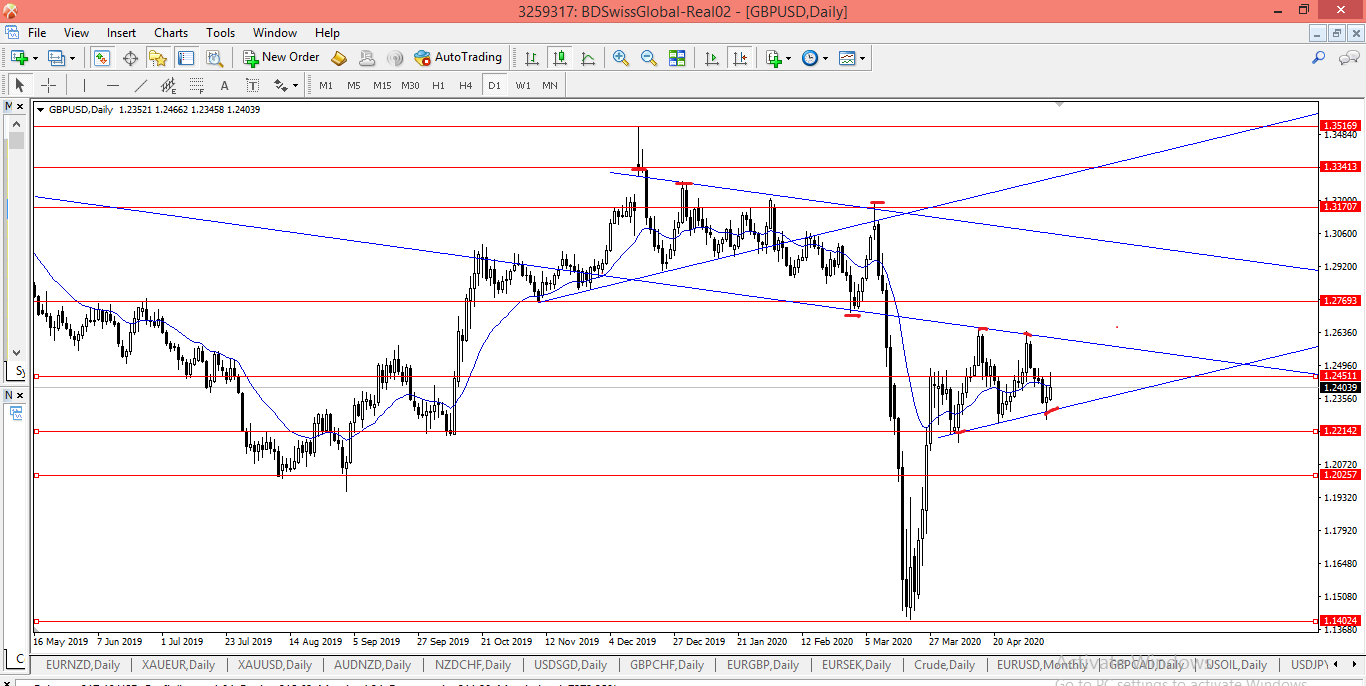 GBPUSD has been in a long term down trend and it is still very much intact. The cable is in a needed consolidation after an aggressive rally in which the pair gained 950 pips in just four days. It is consolidating in a wedge formed buy a trend line and bottom of a descending channel. The channel you will notice, produced a 1300 pips sell off when it broke earlier in March. The cable is probably getting ready for another move. Is it going to be a rally or sell off? No one knows for sure.
However, if it has just formed a lower high then it will be seeking a lower low or if it breaks back into the channel it will be seeking the channel resistance. That is what time will tell, this is a pair to keep an eye on for now.
NZDUSD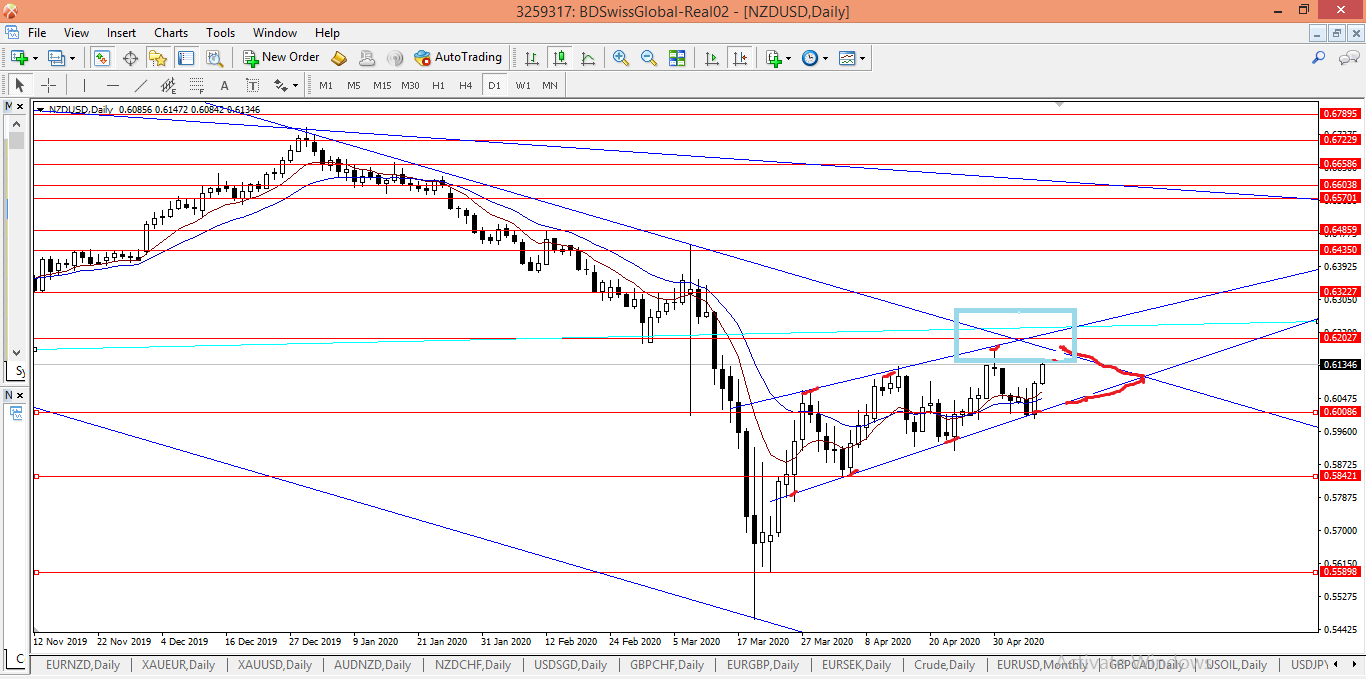 NZDUSD is in an established down trend. It broke out of a multiyear trend line in March selling off 150 pips whilst respecting a descending channel. Notice that the sell off ended with support from the channel bottom. Currently the NZDUSD is playing within a rising wedge.
There is a heavy zone of resistance just a head of the current price comprising of the channel top, horizontal resistance, and wedge resistances (short term and long term wedges).
If the buyers somehow manages to break through this zone between 0.6180 and 0.6230 that will expose higher levels. I must say that is most unlikely but still possible in my opinion. However in the long run am more interesting in selling rather than buying.
My approach is to wait for all this to play out.
USDJPY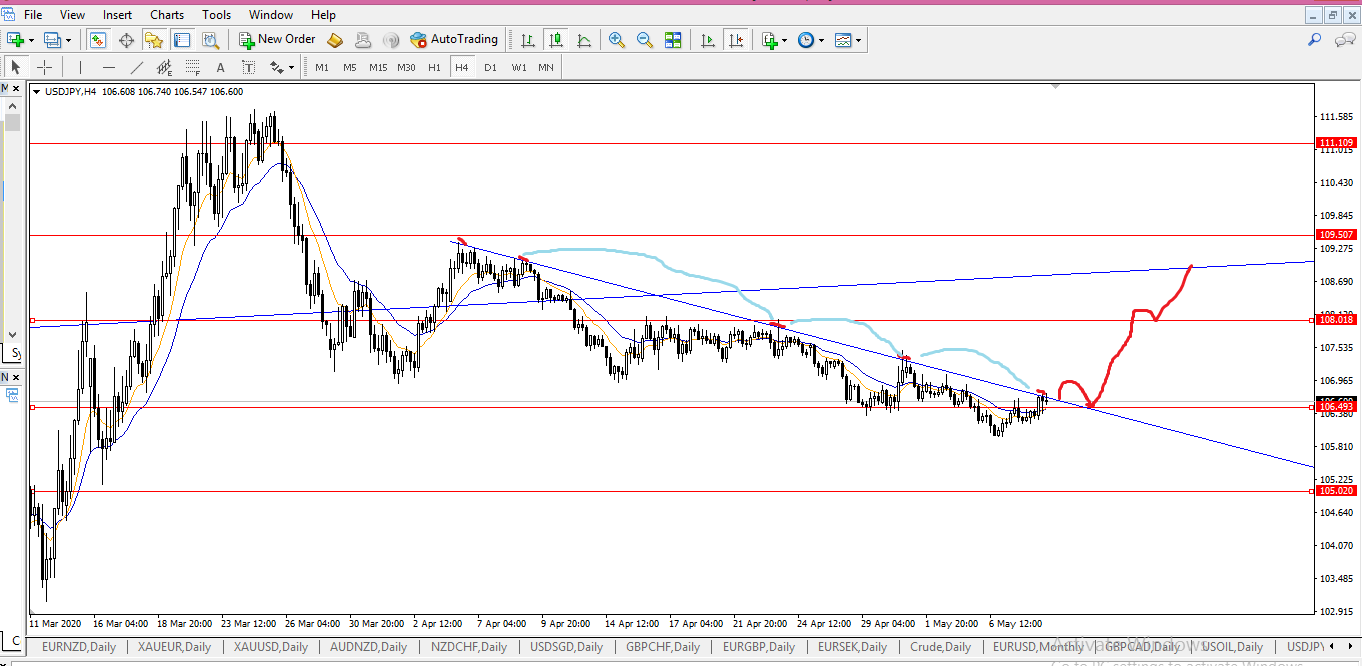 Four Hour Time Frame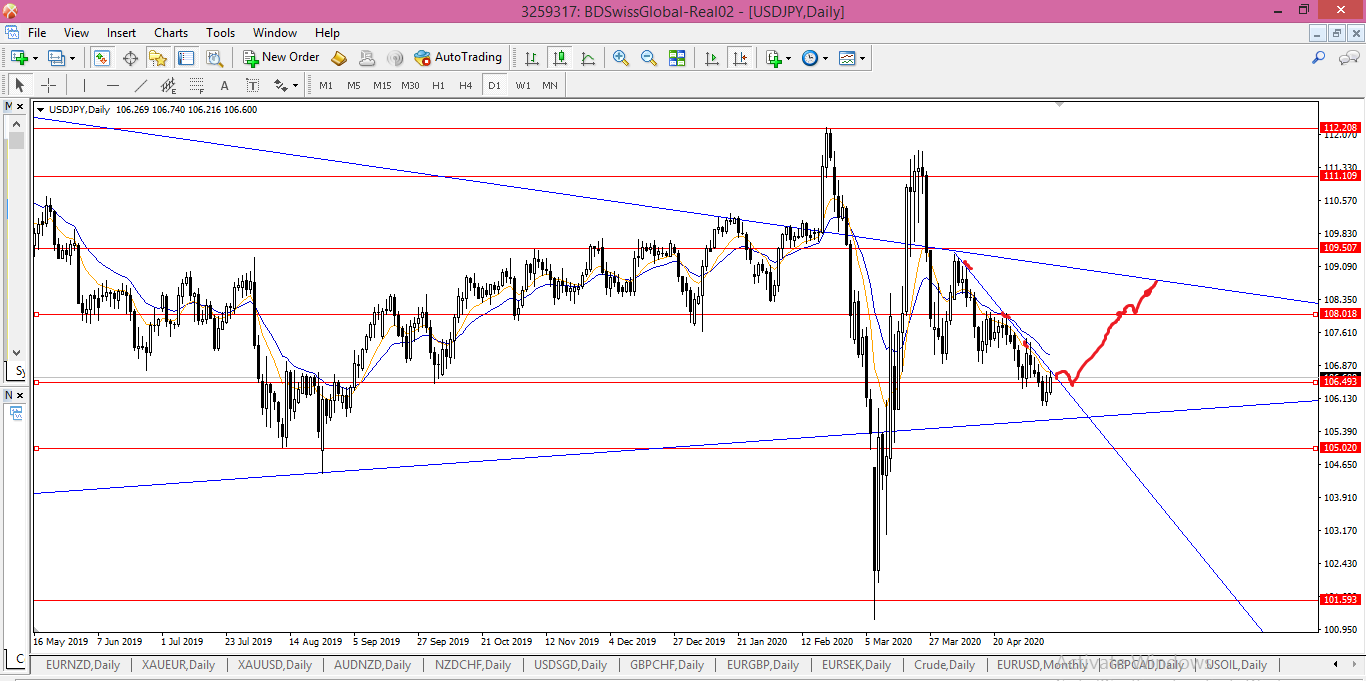 Daily Time Frame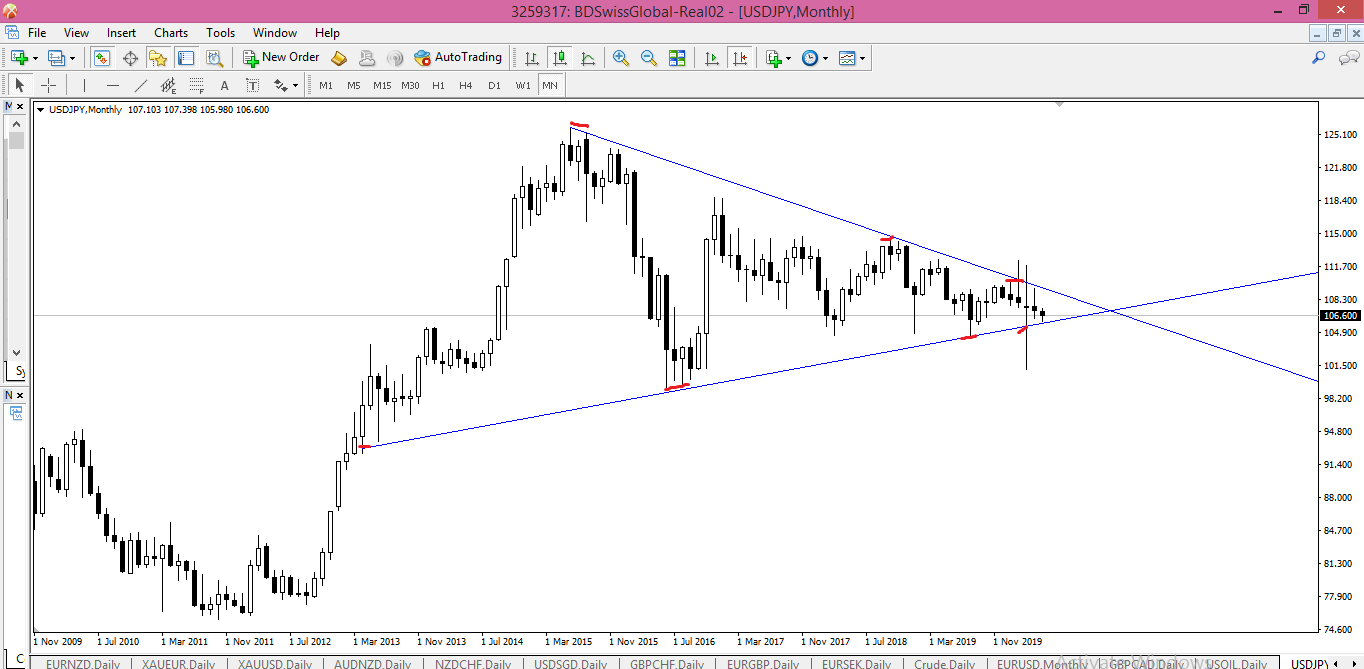 Monthly Time Frame
The dollar yen has been directed by a descending trend line on the four hour time frame, it is being respected buy the daily time frame too. The week ended with the dollar yen closing below the trend line in the area of 106.65 and 106.50 confluences of resistance and support. A break of the trend line will expose higher levels. Notice how close the retest on the trend line is this is usually indicative of a breakout.
The pair is also currently being squeezed in a narrowing wedge on the monthly similar to what we discussed in EURUSD. This is something to keep in mind as the month ends.
If the scenario plays out in the coming days it will expose 108.00 and the wedge resistance in the area 109.00.
Written by:
Chijioke Maduakor
Disclaimer: Any person accessing this information and considering potential investment opportunities featured here should make their own commercial assessment of an investment opportunity after seeking the advice of an appropriately authorized or regulated financial advisor. This information should not be construed as advice or a personal recommendation to any prospective investor.