An improved activity level on the Nigerian Stock Exchange in the week ended 14th August, was complimented with a positive performance for the benchmark All-Share Index (ASI).
The Index appreciated by 0.63% to close at 25,199.84, adding N82.457 billion to the market capitalization.
A total turnover of 1.327 billion shares worth N13.934 billion in 19,392 deals were traded this week by investors on the floor of the Exchange, in contrast to a total of 1.065 billion shares valued at N10.798 billion that exchanged hands last week in 20,482 deals.
The Financial Services industry (measured by volume) led the activity chart with 886.545 million shares valued at N8.360 billion traded in 10,161 deals; thus contributing 66.79% and 60.00% to the total equity turnover volume and value respectively.
The Conglomerates industry followed with 155.956 million shares worth N187.728 million in 828 deals.
The third place was the Consumer Goods industry, with a turnover of 141.099 million shares worth N2.229 billion in 3,403 deals.
Trading in the top three equities namely Guaranty Trust Bank Plc, Transnational Corporation of Nigeria Plc and Zenith Bank Plc. (measured by volume) accounted for 419.455 million shares worth N6.079 billion in 3,854 deals, contributing 31.60% and 43.63% to the total equity turnover volume and value respectively.
After persistent weakness in activity level in the market; a measure of volume and value of shares traded, we are beginning to see an uptick in the charts.
This can be attributed to gradual improvement in economic activities in the country after the Coronavirus induced lockdowns. It can also be attributed to the performance of listed companies in the first half of the year, as many of them performed better than expected following the business disruptions.
This uptick in volume and value of stocks traded can be seen in the graphs below;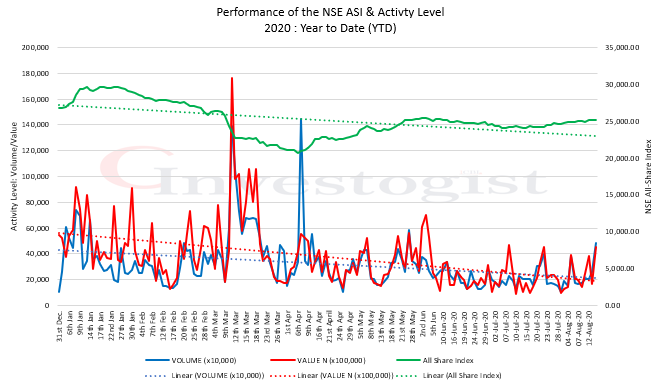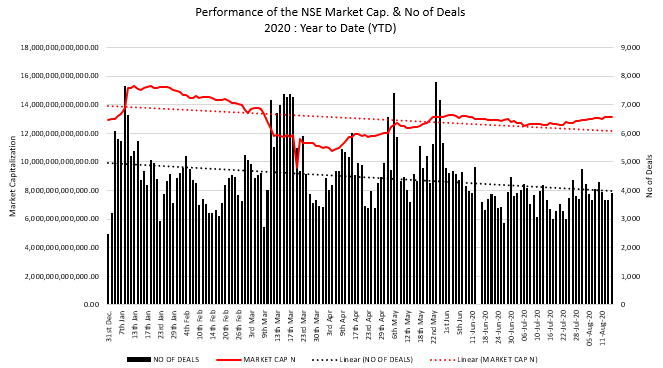 At the end of trading on Friday, 14th August, the NSE ASI loss moderated to -6.12% YTD. Below is the YTD performance of the 5 indices under our watch;
NSE Insurance Index: -1.95%
NSE Oil and Gas Index: -27.97%
NSE Banking Index: -18.09%
NSE Consumer Goods Index: -30.09%
NSE Industrial Goods Index: +3.83%
Three of the Five indices closed the week in positive, while the other two closed in negative; Insurance Index +1.12%, Oil & Gas Index +5.92%, Banking Index -0.03%, Consumer Goods Index +2.25%, Industrial Goods Index -2.71%.
Twenty-nine (29) equities appreciated in price during the week, lower than Forty-one (41) equities in the previous week. Thirty-three (33) equities depreciated in price, higher than Eighteen (18) equities in the previous week, while one hundred and one (101) equities remained unchanged, lower than one hundred and four (104) equities recorded in the previous week.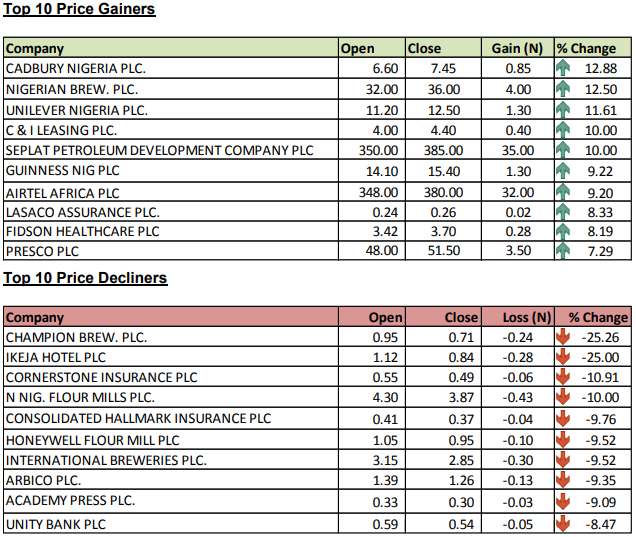 Source: Nigerian Stock Exchange Weekly Market Report
Heading into the new week, we expect Investors to continue positioning on fundamentally strong stocks, most of which can still be purchased at bargain prices.
Stock Pick for the week ahead

TRIPPLEG is an ICT company that is listed on the second ties of the NSE, whose principle activities are the production of security documents, financial instruments and flexible packaging items to both private and public sectors of the Nigerian Economy. The Company has paid dividends to shareholders consistently for the past six years, thus making it attractive for investors interested in dividend stocks.
With a declaration of 5 kobo dividend by LASACO, it makes the composite insurer our top pick for the week.
Written by;
Nnamdi M.