A week of gains on the Nigerian Stock Exchange got Investors smiling as they saw N181.622 billion added to the Market Capitalization. Every single day of trading closed in positive.
A total turnover of 1.065 billion shares, worth N10.798 billion in 20,482 deals were traded in the preceding week by investors on the floor of the Exchange, in contrast to a total of 421.984 million shares valued at N5.337 billion that exchanged hands last week in 11,801 deals.
The Financial Services industry (measured by volume) led the activity chart with 677.301 million shares valued at N5.070 billion traded in 10,386 deals; thus contributing 63.59% and 46.95% to the total equity turnover volume and value respectively.
The Conglomerates industry followed with 153.384 million shares worth N580.216 million in 894 deals. The third place was the Industrial Goods industry, with a turnover of 57.404 million shares worth N861.263 million in 1,671 deals.
Trading in the top three equities namely FBN Holdings Plc, UACN Plc and Access Bank Plc. (measured by volume) accounted for 320.196 million shares worth N1.802 billion in 2,639 deals, contributing 30.06% and 16.69% to the total equity turnover volume and value respectively.
A chart of the activity vs the All Share Index shows that while the Index has started ticking up in recent weeks, the activity level remained subdued with volumes and value of shares traded remain low.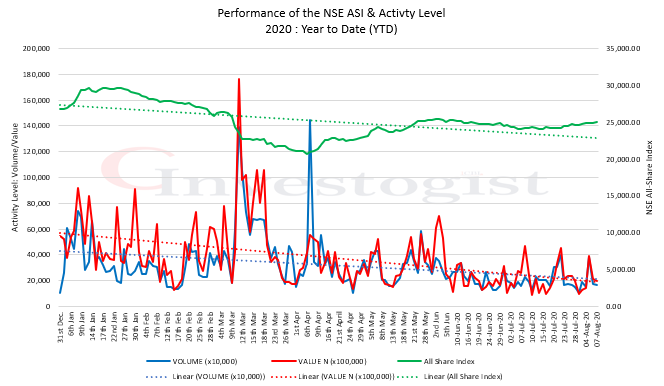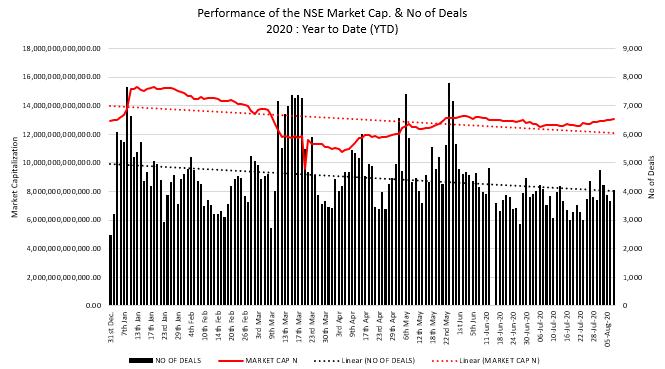 At the end of trading on Friday, 7th August, the NSE ASI loss moderated to -6.71% YTD. Below is the YTD performance of the 5 indices under our watch;
NSE Insurance Index: -3.04%
NSE Oil and Gas Index: -32.00%
NSE Banking Index: -18.07%
NSE Consumer Goods Index: -31.63%
NSE Industrial Goods Index: +6.72%
4 of the 5 indices closed the week in positive, while only one closed in negative; Insurance Index -0.28%, Oil & Gas Index +4.81%, Banking Index +4.94%, Consumer Goods Index +0.72%, Industrial Goods Index +0.10%.
Forty-one (41) equities appreciated in price during the week, higher than twenty-four (24) equities in the previous week. Eighteen (18) equities depreciated in price, lower than twenty-eight (28) equities in the previous week, while one hundred and four (104) equities remained unchanged, lower than one hundred and eleven (111) equities recorded in the previous week.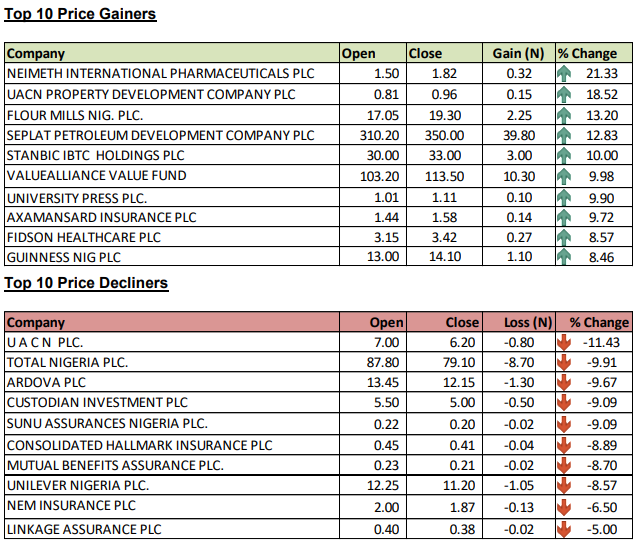 Source: Nigerian Stock Exchange Weekly Market Report
Heading into the new week, we keep a cautious outlook on the market. Investors will be better served buying into fundamentally strong stocks currently trading at bargain prices.
Stock Pick for the next week of trading

ACCESS, GUARANTY, ZENITH and UBA are yet to release the financial statements for the half year period ended 30 June 2020, all four banks have indicated that they will be paying interim dividends to shareholders in line with their tradition.
CUSTODIAN and UACN announced that CUSTODIAN will be buying UACN's stake in UACN Properties Development Co. Limited (UPDC), thus making both stocks to be of interest to us.
TOTAL and CAVERTON are at very low prices as the crisis in the oil industry has affected both their performances in the half year period, and as the oil prices pick up and the general market conditions improve, the stocks are likely to return to pre-crisis price levels.
Written by;
Nnamdi M.