It was relatively quiet on the Nigerian Stock Exchange in last weeks' trading sessions, as the market index shed only 0.12% to close at 24,306.36 on Friday 10th July 2020. Investors lost N15.522 billion, with the market capitalization settling at N12.679 trillion.
A total turnover of 901.542 million shares worth N13.453 billion in 18,676 deals were traded this week by investors on the floor of the Exchange, in contrast to a total of 961.833 million shares valued at N9.181 billion that exchanged hands last week in 20,058 deals.
The Financial Services industry (measured by volume) led the activity chart with 629.368 million shares valued at N5.186 billion traded in 9,887 deals; thus contributing 69.81% and 38.55% to the total equity turnover volume and value respectively. The ICT industry followed with 59.506 million shares worth N5.161 billion in 684 deals. The third place was the Consumer Goods industry, with a turnover of 57.136 million shares worth N1.385 billion in 2,993 deals.
Trading in the top three equities namely Guaranty Trust Bank Plc, Fidelity Bank Plc and Zenith Bank Plc. (measured by volume) accounted for 293.678 million shares worth N4.042 billion in 4,334 deals, contributing 32.58% and 30.05% to the total equity turnover volume and value respectively.
The downward trend in the activity level continued ahead of the earnings season. In the week, although the value of stocks traded appreciated by 46.53% owing to heavy trading in high cap. stocks, the volume of stocks traded in the week depreciated by 6.26%.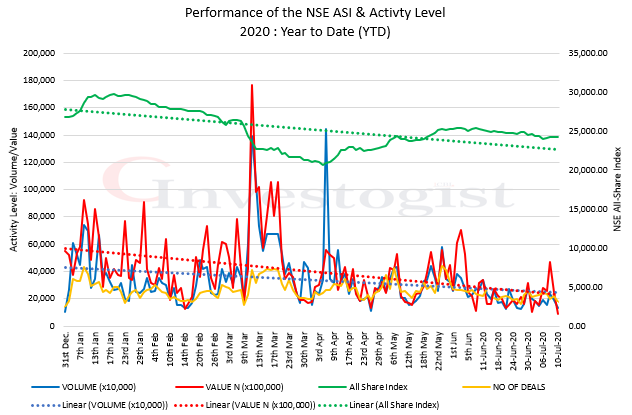 At the end of trading on Friday, the NSE ASI losses increased to -9.45% YTD. Below is the YTD performance of the 5 indices under our watch;
NSE Insurance Index: -0.10%
NSE Oil & Gas Index: -25.77%
NSE Banking Index: -20.64%
NSE Consumer Goods Index: -30.21%
NSE Industrial Good Index: +1.74%
There was a mixed performance of the 5 indices during the week in review; Insurance Index -0.73%, Oil & Gas Index -0.67%, Banking Index +5.85%, Consumer Goods Index -3.96% and Industrial Goods Index -2.13%.
Twenty-five (25) equities appreciated in price during the week, higher than thirteen (13) equities in the previous week. Thirty-three (33) equities depreciated in price, lower than fifty-nine (59) equities in the previous week, while one hundred and five (105) equities remained unchanged, higher than ninety-one (91) equities recorded in the previous week.
The top gainers and lowers were;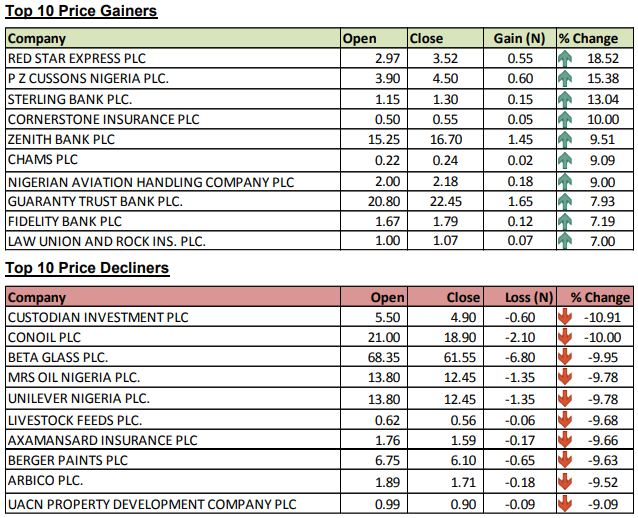 Source: Nigerian Stock Exchange Weekly Market Report
We remain cautious about the market, as we head into the earnings season, and expect the subdued activity level to continue in the week ahead.
Stock Pick for the next week of trading

CONOIL: Conoil Plc declared a dividend of N2.00 for the financial year ended 31st December 2019, with a qualification date on Monday 13th 2020. This is a consistent dividend stock, and although the combined effect of the COVID-19 lock down and the slump in oil prices will take a toll on the company, we expect them to recover from these set-backs and continue to return value to shareholders.
BERGER: A relatively unknown paint manufacturer on the market, consistent dividend payment history, strong fundamentals, a BUY within the fair value range is recommended.
UPL: A consistent dividend stock, and a steady performer. The company's unaudited financial report show a growth in PAT over that of the last financial year, our best bet is that the company will pay nothing less than 15 kobo dividend to shareholders, which will return a dividend yield of 14.85% at current market price. A BUY within the fair value range is therefore recommended.
CILEASING and ETI: Both companies have very high Book Values, and hence will return a high valuation, however CILEASING have a very poor dividend when compared to its share price, while ETI have not been paying any dividend at all. We do could not form an opinion of these two stocks.
Written by;
Nnamdi M.