Lafarge Africa Plc (NSE:WAPCO) on Friday 24th July, 2020 released its unaudited condensed financial statements for the first half ended 30th June, 2020 to Nigerian Stock Exchange and the Investing public. The financial statements seen by Investogist shows that contrary to expectations, the Covid-19 pandemic and the restrictions it brought did not have an impact on the operations of the company.
For the 6 months period ended 30th June, 2020, WAPCO reported a revenue of N120.540 billion, an increase of 2.25% over the N117.885 billion reported in the same period in 2019. With a cost of sales maintained at similar rate as in 2019, and a 30.64% reduction in the administrative expenses and a 66.77% reduction in finance cost, the company was able to grow its profit after tax by 47.29% to N23.329 billion, up from N15.839 billion reported in H1 2019.
A review of the second quarter period; April to June, shows a better financial performance despite the Covid-19 pandemic that reached Nigeria in March, and necessitated a lock down in business activities that lasted for most of April. In the 3 months period, the company recorded a 5.05% decline in revenue, from N59.868 billion in Q2 2019 to N56.844 billion in Q2 2020.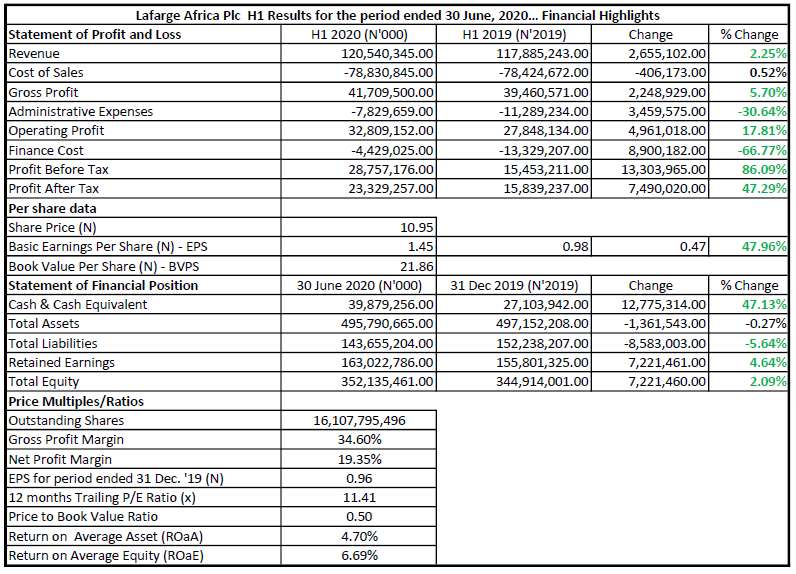 In the quarter that most Analyst, including those at Investogist expected the earnings of company's to decline due to the coronavirus, WAPCO reported an impressive 60.02% growth in profit after tax; N23.329 billion up from N15.839 billion recorded in Q2 2019.
Lafarge Africa PLC (Lafarge Africa) was incorporated in Nigeria on 26 February, 1959 and commenced business on 10 January 1961. The Company formerly known as Lafarge Cement WAPCO Nigeria Plc changed its name after a special resolution was passed by the shareholders at an Annual General Meeting held on Wednesday 9 July 2014.
The change of name became effective with the acquisition of shares in Lafarge South Africa Holdings (Proprietary) Limited (LSAH) which was disposed in 2019, United Cement Company of Nigeria Limited (UNICEM), AshakaCem Ltd (AshakaCem) and Atlas Cement Company Limited (Atlas). The Company's corporate head office is situated at 27B Gerrard Road, Ikoyi, Lagos which is same as the registered office.
Lafarge Africa is in the business of manufacturing and marketing of cement and other cementitious products such as Ready-Mix Concrete, Aggregates, Fly-Ash etc. On July 15, 2016, Lafarge S.A. France and Holcim Limited, Switzerland two large global players merged to form LafargeHolcim Group based in Zurich, Switzerland. Consequently Lafarge Africa is now a subsidiary company of Lafarge Holcim.
Analysts at Investogist have a BUY rating on the shares of WAPCO, as the company continue its return to profit levels pre-2016, we believe that Investors will continue to see value in the re-positioned company, and hence its share value will return to it's pre-2016 numbers.
The company share price closed at N10.95 at the end of trading on Friday on the NSE, YTD it is 28.43% down, and have lost 81.98% of its value over the past 3 years, it is equally down by 89.38% over the past 5 years.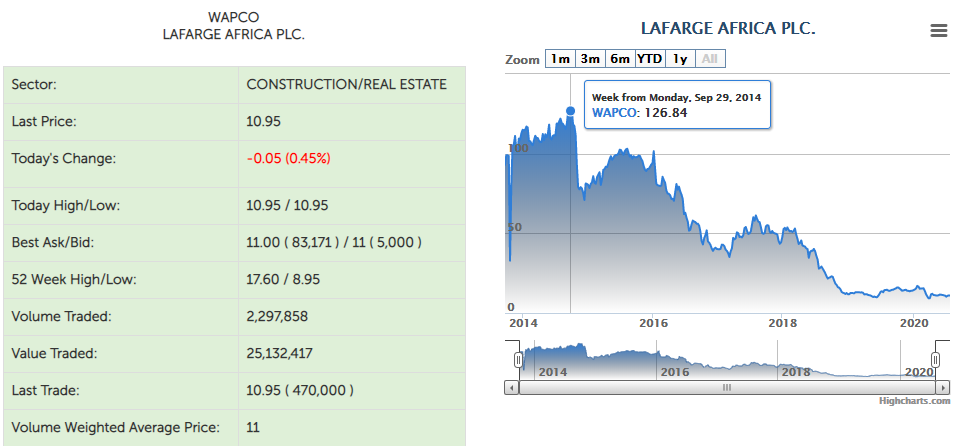 Source: Last trading session and price history for Lafarge Africa Plc (Mytradebook from Greenwich Securities Limited)
Written by;
Nnamdi M.