Chemical and Allied Products, CAP Plc (NSE: CAP) earlier on Wednesday 22nd July, 2020 released its financial statements for the period ended 30 June, 2020 to the Nigerian Stock Exchange and the Investing Public.
For the second quarter period, April to June, the company reported a revenue of N1.175 billion, a 35.1% drop from the N1.811 billion reported in the same period in 2019. Profit after tax also declined by 59.1%, from the N369.10 million recorded in Q2 2019 to N151.052 million in Q2 2020.
For the first half of the year, H1, CAP Plc reported a revenue of N3.488 billion, 10.7% lower than N3.906 billion reported in the same period. The company reported a Profit after tax of N607.327 Million, 30.03% less than the N868.044 million profit made in H1 2019.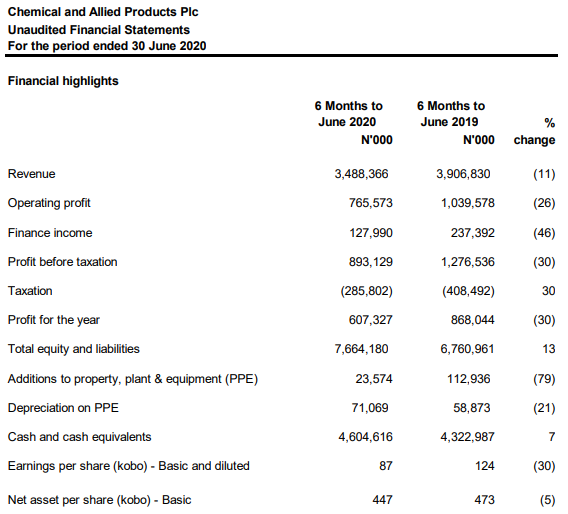 Chemical and Allied Products Plc ('the Company') is a company incorporated in Nigeria. The Company is involved in the manufacturing and sale of paint. The address of the registered office is 2 Adeniyi Jones Avenue, Ikeja, Lagos.
CAP Plc has 700,000,000 outstanding shares, with UAC of Nigeria Plc owning 360,427,061 (51.49%) shares of the company, thus making it a subsidiary of UACN.
The Board of Directors of the company had not recommended a dividend to be paid to shareholders for the financial year ended December 31, 2019, stating that this was in light of economic uncertainties related to the corona virus pandemic.
Despite have a reduced cash from operations before working capital changes, the cash flow statement for the H1 period showed that the company has cash and cash equivalent of N4.604 billion at the end of the period, up from N2.799 billion at the end of the same period in 2019.
CAP has total assets of N7.664 billion, funded by N4.535 billion liabilities, and N3.129 billion shareholders equity. The company has no debt or borrowings on its balance sheet, its liabilities comprises of trade and other payables (N1.811 billion), dividend payable (N1.500 billion) and current income tax liabilities (N1.051 billion).
The shareholders equity is primarily made up of retained earnings (N2.759 billion), while ordinary share capital (N350.000 million) and share premium (N19.254 million) make up the rest.
The share price of the company is currently at N18.95 on the Nigerian Stock Exchange, it has a 52 week high of N27.50 and a 52 week low of N18.00. It has a BUY rating on Investogist Stock Pick. The company is one of the good dividend paying stocks on the market, and expected to return to dividend payment post Covid-19.
Written by;
Nnamdi M.