Africa Prudential Plc (NSE: AFRIRUD) on Thursday 23rd July, 2020 released its unaudited financial statements for the period ended 30 June 2020 to the Nigerian Stock Exchange and the Investing public.
The company reported a gross earnings of N1.872 billion for the period ended 30th June, 2020, a 6.84% decline from a gross earnings of N2.010 billion reported in the same period in 2019.
During the period under review, revenue from contracts with customers contracted by 32.12% year-on-year (H1 2020: N590.672 million, H1 2019: N870.140 million) on the back of the effect of COVID-19 on the business landscape. This led to a 100% drop in retainership fee (H1 2020: N0.000, H1 2019: N463.058 million) in the first half of the year.
However, the company was able to increase fees from corporate actions (H1 2020: 305.374 million, H1 2019: N226.426 million) by 34.87%, register maintenance (H1 2020: N142.003 million, H1 2019: N106.919 million) by 32.81% and digital consultancy (H1 2020: N143.295 million, H1 2019: N73.737 million) by 94.33% year-on-year.
Also, a quarter-on-quarter analysis shows that the company has been able to improve revenue from fees from corporate actions by 1,791.87% and register maintenance by 171.39% QoQ.
On the other hand, the company recorded a 12.45% year-on-year increase in interest income driven by a 30.47% rise in interest income on loans and advances, and 158.88% surge in interest income on bonds despite the 45.29% reduction in interest income from treasury bills and 87.20% decline in interest on short-term deposits due to the poor yield environment.
Despite the effect of the pandemic on the business environment, Africa Prudential was able to deliver a PAT increase of 5.34% year-on-year, as the PAT grew from N1.028 billion in H1 2019, to N1.082 billion in H1 2020. This is on the back of 12.45% increase in its interest income, 5.77% decline in operating expenses, a 26.13% decline in income tax paid and 100% reduction in Finance cost.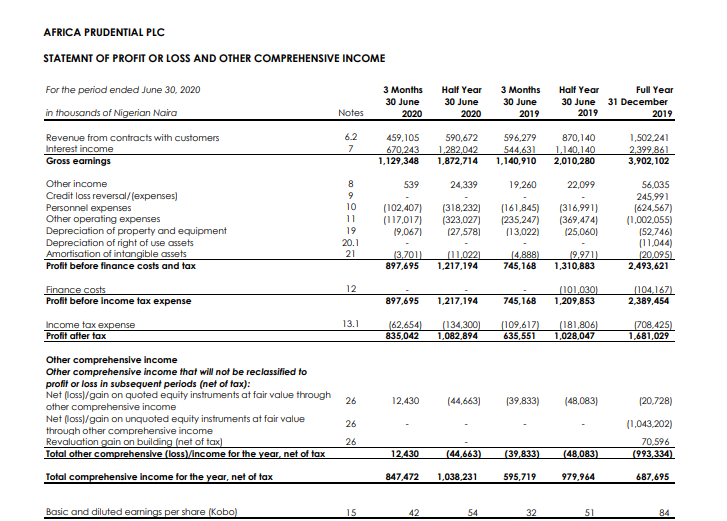 Africa Prudential's total assets during the period under review appreciated 22.78% year to date. This is on account of 163.84% increase in cash and cash equivalents, 146.16% increase in trade and other receivables and 6.50% rise in debt instrument at amortised cost.
Total liabilities surged 44.47% owing to 45.72% increase in customers' deposits, 204.61% increase in creditors and accruals, and 21.17% increase in current income tax payable.
The Shareholders' wealth declined by 4.37% due to payment of N1.4 Billion dividends during the year.
The company's cash flow statement showed a surge of 181.42% in the cash and cash equivalents as at, 30th June 2020. This cash comes from customers' deposits which was N4.409 billion against the minus N477.665 million recorded at the period ended, 30th June 2019. Note 22 on the statement of financial position for the company list's the components of the customer's deposit as shown below.

Commenting on the result, the Managing Director/CEO of the Africa Prudential, Mr. Obong Idiong, had this to say:
"With the continued prevalence of Covid-19 in Q2, the global economy has been drastically affected by the impact of the pandemic as evident from the revision of the world economy growth rate projection from -3.0% to -4.9%. Locally, Nigeria has not been exempted from the effect with the Finance Minister predicting a shrink of 8.9% in Gross Domestic Products (GDP) and possible recession in 2020. Our Q1 results showed the impact of the pandemic on our business, however we have been able to put in place structures to help us maximize the current business cycle.
Through this structure we were able to achieve an impressive quarter-on-quarter results, increasing gross earnings by 52% and PAT by 144%. We were also able to deliver an improved result year-on-year, growing interest income and PAT by 12% and 5% respectively.
As the company continues to observe safety measures to ensure the safety of staff and customers, we have enhance our virtual channels to meet the needs of our various categories of customers while reducing the need for physical visits significantly. We remain committed to sustaining and improving our service offerings to clients and creating superior value for our investors. As seen in our financials, we recorded some significant improvement in the growth of non-traditional sources of income as revenue from digital consultancy rose by 94% year-on-year.
As customary, sequel to this release of the H1 2020 result, the company would be hosting a conference call Investors and Analysts. The statement from AFRIPRUD says that "information would be circulated to all in due course."
Africa Prudential Plc. ("the Company") ,formerly UBA Registrars Ltd was incorporated as a private limited liability company on 23rd March 2006 to take over the registrar services formally operated as a department by its former parent – UBA Global Market Limited. The company was listed on 17 January, 2013. The Company renders share registration services to both public and private companies. The Company's registered office address is 220B, Ikorodu Road, Palmgrove, Lagos Nigeria.
Analysts at Investogist have a BUY rating on the stock of AFRIPRUD, with an upper price range of N4.00. At the end of the last trading session on the Nigerian Stock Exchange, AFRIPRUD shares closed at N4.12. The stock price is up by 3.00% YTD, up by 29.15% over 3 years, and up by 50.92% over the past 5 years.
Written by;
Nnamdi M