11 Plc (formerly Mobil Oil Nigeria Plc), earlier on Wednesday released its unaudited interim financial statement for the period ended June 30, 2020 to the Nigerian Stock Exchange and the investing public.
The company reported a revenue of N80.539 billion in H1 2020, a 13.22% drop from the N92.805 billion reported for the same period in 2019. The revenue consisted of N62.988 billion (H1 2019: N74.855 billion) from Fuels, N16.696 billion (H1 2019: N17.341 billion) from Lubes and N0.854 billion (H1 2019: N0.607 billion) from Liquified Petroleum Gas (LPG).
The company recorded an 11.29% reduction in cost of sales, to obtain a Gross Profit of N4.897 billion, 35.05% lower than the N7.540 Gross Profit reported in H1 2020. This represents a Gross Profit Margin of 6.08% (H1 2019: 8.12%).
With a small increase in the administrative expenses and a 43.38% decline in the finance cost, 11 Plc reported a profit after tax of N2.518 billion, 39.66% lower than N4.173 billion reported in the same period in 2019.
A review of the unaudited statement of cash flows, shows that the company generated a net cash of N4.301 billion from operating activities, this is against N8.664 billion generated in H1 2019.
The company invested N11.511 billion in the purchase of fixed assets in the period in review.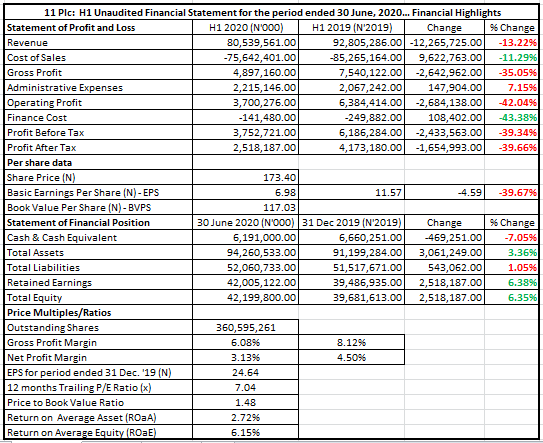 The company's second quarter report (April – June), shows a 43.81% drop in revenue, down to N26.260 billion from N46.732 billion recorded in Q2 2019. The profit after tax declined by 42.18%, from N2.133 billion in Q2 2019, to N1.233 billion in Q2 2020.
11 Plc had reported a 37.02% decline in profit after tax in Q1 2020, with the profit declining from N2.039 billion reported in Q1 2019 to N1.284 billion in Q1 2020.
The financial performance of the company has therefore been in decline, prior to the Covid-19 pandemic, and the subsequent lockdown that would have affected the company's business.
Analyst at Investogist have a HOLD rating on the stock.
Written by;
Nnamdi M.