The Pan African Bank, Ecobank Transnational Incorporated (NSE ticker: ETI), had on Thursday released its unaudited consolidated financial statements for the year ended 31 December, 2020, posting a profit of N35.883 billion for the year.
Although the bank grew its Interest Income by 3.78%, lags in other income streams, forced down down its profit after tax by 63.92%.
Statement of Profit/Loss:
ETI reported a Gross Earnings of N828.961 billion, a 2% reduction on the earnings it reported for the same period in 2019 (N842.490 billion).
Interest Income contributed the most to the bank's earning, bringing in N530.136 billion. This was 4% higher than the N510.813 billion brought-in in 2019.
Fee and Commission Income with N160.577 billion, Trading Income and Other operating Income with N15.134 billion make up the other streams of earning that added up to give the Gross Earnings.
An analysis of the report show that the Fee and Commission income declined by 3%, Trading Income declined by 15%, while Other operating Income declined by 41%.
The Interest Expense was reduced by ETI in the period in review, as the bank posted N184.841 billion Interest Expense, 23% lower than the N239.586 it spent in 2019.
Staff expenses was marginally down by 2%, N174.231 billion was spent against N177.378 billion in 2019. Its total operating profit after impairment loses decreased by 5%to N142.837 billion, from the N150.249 billion it posted in 2019.
The Profit Before Tax dropped 55%, from N billion in 2019 to N65.459 million in 2020. The profit after tax also declined by 64%, from N99.461 billion to N35.883 billion.
Statement of Financial Position
An analysis of the company's balance sheet show that its total asset of N10.270 trillion was funded by 7.84% (2019: 7.98%) of Shareholders Equity and 92.16% (2019: 92.02%) of Liability.
ETI almost doubled its cash and balances with central banks, as it increased by 48.01%, jumping from N1.031 trillion held in 2019, to N1.527 trillion in 2020.
Deposits from customers also saw significant improvement, as the bank added another N1.376 trillion (23.23%), to the N5.924 trillion it had in 2019.
While its Total assets increased by 19.12%, the Total liabilities increased by 19.29% to N9.464 trillion, and the Total Shareholders' equity was up by 17.07% to N805.106 billion.
With an Earnings Per Share of just 12 kobo, Ecobank is punching well below its weight, having drifted so far from its contemporaries.
Statement of Cash Flow
ETI enhanced its cash flow, holding a cash and cash equivalents of N1.447 trillion at the end of the period in review, much higher than the N978.806 trillion it held as at 31 December 2019.
By a combined effect on the increase in the deposits from customers, and a reduction in interest payments, ETI boosted its cash generation from operating activities from N419.492 billion in 2019, to N1.018 trillion in 2020.
It spent more money in investing activities in 2020 than in 2019, going from N182.783 billion to N431.302 billion. This can be attributed to the increased purchase of investment securities, where it spent N1.341 trillion buying securities in 2020, against N1.053 trillion it spent in the same activity in 2019.
The bank took in less money in the form of loans, while maintaining similar level of repayment of borrowings. The Net cashflow used in financing activities was more than it was in 2019, from N1.507 billion to N99.209.
Overall for the period in review, ETI reported a net increase in cash and cash equivalents of N487.562 billion, significantly higher than the N235.202 billion it achieved in 2019.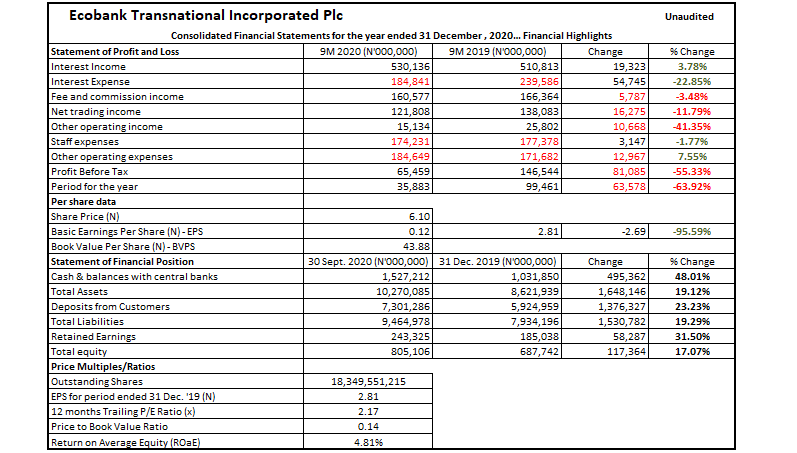 Table 1: Highlights of Financial Statement
About the company
Ecobank Transnational Incorporated (ETI) and its subsidiaries provide retail, corporate and investment banking services throughout sub Saharan Africa outside South Africa.
The Group had operations in 39 countries and employed over 14,023 people as at 31 December 2020 (31 December 2019: 14,878).
Ecobank Transnational Incorporated is a limited liability company and is incorporated and domiciled in the Republic of Togo. The address of its registered office is as follows: 2365 Boulevard du Mono, Lomé, Togo.
The company has a primary listing on the Ghana Stock Exchange, the Nigerian Stock Exchange and the Bourse Regionale Des Valeurs Mobilieres (Abidjan) Cote D'Ivoire.
The Group's consolidated financial statements for the year ended 31 December 2020 (the Financial Statements) have been prepared in accordance with International Financial Reporting Standards (IFRS) and IFRS Interpretations Committee (IFRS IC) applicable to companies reporting under IFRS. The financial statements comply with IFRS as issued by the International Accounting Standards Board (IASB).
ETI has  18.349 billion outstanding shares and a market capitalization of N117.437 billion. At the end of trading on Friday, the share price of the company was N6.40. The 52 week high price of the stock is N7.60, while the 52 week low is N3.90.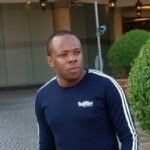 Nnamdi Maduakor is a Writer, Investor and Entrepreneur