Baker Hughes Nigeria is actively recruiting qualified candidates to fill open positions at its Lagos and Port Harcourt Offices.
Details of the vacancies and links to Apply for them can be found on Baker Hughes' website.
Vacancy #1
Lead Project Manager – Upgrades – Turbomachinery Solutions
Location: Lagos, Lagos State Nigeria
Service Job ID: R65279
Date posted: Dec. 15th, 2022
The successful applicant will be joining a Baker Hughes team that offers a plant-wide, holistic suite of computerized machine condition monitoring and protection services. The team provides vibration monitoring, machinery protection, diagnostics, real-time data and remote monitoring services to our customers.
The Project Manager will be responsible for the project delivery of all Turbo-Machinery upgrades related projects with profit & loss accountability. The Project Manager is also responsible for driving customer satisfaction, assuring the highest excellence in the execution jointly to the business targets
As a Project Manager, you will be responsible for:
Managing overall execution of rotating machinery equipment upgrades/retrofit related projects and accountable for the financial performance of the contract in terms of revenues, contribution margin and cash collection.
Managing the scope of work of the contract and ensuring that the quality and on time delivery of the project are achieved to meet Customer needs and satisfaction.
Managing and coordinate all related Rotating Machinery equipment unit modification and site installation activities, Unit Upgrade & Repair Service and all parts delivery activities to meet Contract obligation
Managing cross-functional teams and driving both internal and external execution to meet contractual obligations and business targets.
Organizing and, conducting all contract review meetings and leading all forms of communication with customers, managing project deliverable and discussing/reviewing outcomes also with all internal stakeholders including the Project Management Leader
Identifying and carefully evaluating risks during the project lifecycle and working with multiple functions to mitigate them
Managing and Negotiating all change orders with Customers
Planning and coordinating with Customers, the implementation of recommended actions due to Technical Information Letters by monitoring their technical improvement applicability and execution timeframe on all related Rotating Machinery equipment
Resolving with the customer any un-clarity in the contract agreement wording which may arise during the execution of the contract
Keeping Customers updated about design changes and provide information about the latest advancements in upgrades opportunities to Customer, thereby sourcing for opportunities to expand the project profitability in ways that bring value to Customers.
Operating according to performance indicators, such as timeliness of project launch and quality of project report, customer satisfaction NPS.
Interacting compliantly with Baker Hughes tools, processes, and organization in order to fulfill all Contract obligations
Prioritizing and promptly escalate critical issues business needs
To be successful in this role you will:
Have a Bachelor's Degree from an accredited College or University with Oil & Gas industry experience
Have at least 5 years' experience in project management that includes rotating machinery equipment upgrades/retrofit
Experience on site supervision with direct practice on the field managing people and resources.
Demonstrate technical writing skills, knowledge of MS Office and systems for design, test and analysis (e.g. AutoCad)
Demonstrate the ability to manage and execute multiple customer projects to successful completion
Show experience of project cost control and managing customer contractual requirements to successful completion
Demonstrate excellent communication skills and an ability to build trusting relationships with customers
Be able to work in a variety of difficult environments including on-shore facilities and customer locations
Demonstrate ability to operate in a globally spread matrix organization
Be IPMA or PMP certified
Have Six Sigma Green Belt certified is a plus
Work in a way that works for you:
We recognize that everyone is different and that the way in which people want to work and deliver at their best is different for everyone too. In this role, we can offer the following flexible working patterns:
This role is working with our customer on-site in locations across the region and world.
Occasionally remote working from another work location when not on-site
Vacancy #2
Technical Operational Supervisor – Turbomachinery & Process Solutions
Location: Port Harcourt, Rivers State Nigeria
Date Posted: Dec. 20th 2022
Baker Hughes' Turbomachinery & Process Solutions business provides industry-leading products and services that optimize extraction, production and processing of energy.
The successful applicant will be responsible for inspecting in shop Gas Turbine and Centrifugal Compressors, including components, producing reports of the activities performed (including NDT). The candidate will also be responsible for rotor balancing. In the scope of this role is also to verify the status of components at arrival performing inspection, producing a report about status, compete the report issuing the final report. The candidate will also create the repair workorders for inspection and repair, prepare the scope of work and Inspection/Completion reports for each job orders, Lead the repair qualification for new components.
As a Technical Operational Supervisor, you will be responsible for:
Managing Inspection and Calibration tools and equipment (status, certificates, etc)
Creating & issuing of the repair workorders for inspection and repair.
Carrying out quality assurance tests/validation on new designs. Developing Manufacturing processes for Product flow, Assembly, Testing, Tools & fixture requirement.
Identifying of potential spares for repair items, to advance the spares procurement.
Managing the preparation of Inspection and completion reports for each job orders.
Leading the repair qualification of new components and working closely with operation team to improve the repair process
Making sure the tooling required for a job is ready to begin the production
Uploading of reports and update job status and coordinating with HQ / relevant engineering resources for new repair process.
Ensuring Health, Environment and Safety compliance.
Working on cross-functional projects/teams to deliver technology solutions for the business.
To be successful in this role you will:
Have a minimum of a Higher National Diploma in Mechanical Engineering.
Have at least 5 years' experience in the oil & gas industry.
Be available to work on weekends and in long shift (up to 14h) during Customer shutdowns.
Have experience as inspector for shop activities relevant to gas turbine / centrifugal compressor and be familiar with mechanical maintenance work.
Be familiar with Cranes, Lifting equipment ant tools, Fork lift, etc. as well as shop activities (cleaning, inspecting, machining of parts).
Be familiar with gas turbine / centrifugal compressor products
Be familiar with shop activities (cleaning, inspecting, machining of parts).
Work in a way that works for you
We recognize that everyone is different and that the way in which people want to work and deliver at their best is different for everyone too. In this role, we can offer the following flexible working patterns:
Working flexible hours – flexing the times when you work in the day to help you fit everything in and work when you are the most productive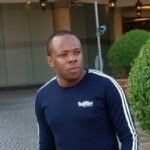 Nnamdi Maduakor is a Writer, Investor and Entrepreneur