A US Congressman is expected to roll out a measures that would allow private U.S citizens to seize yachts, planes or other property belonging to sanctioned Russian citizens amid Russia's "Special Military Operation" in Ukraine.
Texas Republican Rep. Lance Gooden will be attempting to use a legislation routinely used during the war of 1812 to ask President Biden to issue letters of marque and reprisal against properties of Russians.
A letter of marque or reprisal is a government license that authorizes a private person, known as a privateer to attack and capture vessels of a nation at war with the issuer.
Article 1 of the United States Constitution lists issuing letters of marque and reprisal in Section 8 as one of the enumerated powers of Congress, alongside the power to tax and to declare War.
This provision in the US constitution were routinely used during the War of 1812 for Americans to seize property on behalf of the U.S government. The United States has not legally commissioned any privateers since 1815.
Speaking to Fox News Digital, Gooden said;
"Putin and his inner circle still have yachts and planes sitting in harbors and airports all over the world. The United States must use every tool at our disposal to seize them and hold Russia accountable for disgusting invasion of Ukraine. The oligarchs who enabled this crisis are a good place to start."
Rep. Gooden may not need to use the archaic to go hunting for the riches of Russians his Government and her allies has sanctioned. This is because the Biden Administration and U.S allies are already poised to go after physical assets of sanctioned oligarchs.
The U.S and its partners said in a joint statement on Saturday that they'll form a transatlantic task force to hunt down and freeze assets of sanctioned individuals and companies within their jurisdictions.
We" go after their yachts, their luxury apartments, their money and their ability to send their kids to fancy colleges in the west," a senior Biden administration official said about the new crackdown.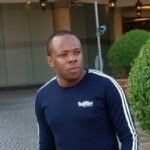 Nnamdi Maduakor is a Writer, Investor and Entrepreneur