A live debate between the last two standing candidates vying to succeed Boris Johnson as British prime minister came to a dramatic end on Tuesday when the presenter fainted.
The debate was hosted by Talk TV and the Sun newspaper.
The two contenders, Foreign Secretary Liz Truss, and former finance minister Rishi Sunak had been sparring over their plans for about 30 minutes when there was a loud crash in the studio.
The presenter, Kate McCann collapsed while the camera was on Truss. This is the second head-to-head tussle between the two contenders.
She held her hands to her face and said, "Oh my God", and the broadcast was then cut.
"Although she is fine, the medical advice was that we shouldn't continue with the debate. We apologise to our viewers and listeners," Talk TV said on Twitter.
Both Truss and Sunak later sent messages on Twitter wishing McCann well.
"Relieved to hear @KateEMcCann is fine. Really sorry that such a good debate had to end," Truss said.
A YouGov poll of Conservative Party members, who will ultimately decide on the next leader, found 50% thought Truss performed the best in the first clash on Monday, with 39% backing Sunak.
The winner of the election, which will be decided by a ballot of the fewer than 200,000 Conservative members, will be announced on Sept. 5.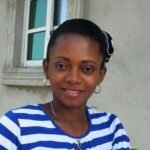 Ifunanya Ikueze is an Engineer, Safety Professional, Writer, Investor, Entrepreneur and Educator.