The Thirty-first Annual General Meeting of Guaranty Trust Bank Plc was convened and held on Friday, April 9, 2021 at the Oriental Hotel, 3, Lekki Road, Victoria Island Lagos.
An annual general meeting (AGM), according to a definition by Investopedia, is a yearly gathering of a company's interested shareholders.
At an AGM, the directors of the company present an annual report containing information for shareholders about the company's performance and strategy.
Shareholders with voting rights vote on current issues, such as appointments to the company's board of directors, executive compensation dividend payments, and the selection of auditors.
At the Guaranty Trust Bank's AGM, the following resolutions were proposed and duly approved;
That the Audited Financial Statements for the financial year ended December 31, 2020, and the Reports of the Directors, Auditors and Statutory Audit Committed thereon laid before the Meeting be and are hereby received
That the final dividend in respect of the financail year ended December 31, 2020, in the sum of N79,464,186,000.00 from the profit after taxation of the Bank be and is hereby approved and declared payable as dividend at a rate of N2.70k  Kobo per 50 Kobo Ordinary (bringing the total dividend paid to Shareholders for the 2020 financial year to N3.00k per Ordinary Share of 50 Kobo each), subject to the appropriate withholding tax deduction, to Shareholders whose names are registered in the Company's Register of Members at the close of business on Wednesday, March 31, 2021.
i. That Mr Ibrahim Hassan, offering himself for re-election, be and is hereby re-elected as a Non-Executive Director of the Company. ii. That Mrs. Victoria Osondu, Adefala, offering herself for re-election, be and is hereby re-elecetd as a Non
That Messrs. Ernst & Young be and are hereby appointed as the Company's External Auditor in place of PricewaterhouseCoopers, who retires as the Comapny's Auditor.
That the Directors be and are hereby authorized to fix the remuneration of the Auditors, Messrs. Ernst & Young in respect of the year ending December 31, 2021.
That the remuneration of the Managers of the Company, be and is hereby disclosed.
That Alhaji Mohammed Abiodun Usman, Mrs. Sandra Mbawu-Fagbemi and Mrs. Aderonke Kuye, be and are hereby elected as the representatives of shareholders on the Statutory Audit Committed of the Company for the 2020 financial year.
About the Company
The Group (comprising the bank and its banking subsidiary) is a leading African banking group. The group's principal business is conducted in Nigeria, directly through the Bank where it offers a wide range of commercial banking services to corporate and retail customers.
The Bank also provides commercial banking services to individuals and institutions through its banking subsidiaries in the Gambia, Sierra Leone, Ghana, Liberia, Cote D'Ivoire, Tanzania, Kenya, Uganda, Rwanda, and the United Kingdom.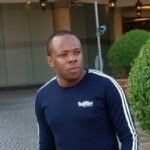 Nnamdi Maduakor is a Writer, Investor and Entrepreneur