Cutix Plc (NGX: CUTIX) has published the resolutions pass at it's 39th Annual General meeting held at the Anaedo Social Club Hall, 20 Ezenwegbu Road, Otolo Nnewi, Anambra State on Friday 26, 2022.
The resolutions released via a corporate action on the Nigerian Exchange Limited was signed by the Company Secretary Chinwendu Nwokporo (ACIS).
Read also; VACANCY: Egbin Power Plc is recruiting into several positions
At the end of the meeting, the following resolutions were duly passed:
ORDINARY BUSINESS:
"That the Audited Accounts for the year ended April 30, 2022 together with the report of the Directors,
Audit Committee and Independent Auditors are hereby received and adopted."
"That a dividend payment of 10 kobo for every ordinary share of 50 kobo each to all shareholders
whose names appeared in the Company's Register of Members at the close of business on August
19, 2022 is hereby declared payable on August 31, 2022".
(a) "That the following Directors who retired by rotation be and are hereby re-elected:
i. Mr. Ike Okonkwo,
ii. Mr. Ariyo Olushekun, and
iii. Mrs. Ijeoma Ezeasor
(b) That a Director, Amb Odi Nwosu who is above 71 years old presented for an extension to
help in completing some projects that are already in progress be and is hereby re-elected"
"That the remuneration and expenses of the Company's Auditor, Ngozi Monica Okonkwo &
Co, be fixed by the Directors in respect of the period ending at the conclusion of the next
Annual General Meeting".
"That the remuneration of Managers of the Company for the year ending April 30, 2023 was
disclosed and noted at the meeting in line with Section 257 of CAMA 2020".
"That the following persons be and are hereby elected to represent the shareholders as members of
the Company's Statutory Audit Committee:
a) Chief Edmund Njoku (Shareholders' Representative)
b) Mr. Chima Nwosu (Shareholders' Representative)
c) Mr. Jude Okpala (Shareholders' Representative
while the following Directors were nominated to represent the Board as members of the Audit
Committee:
d) Mr. Ike Okonkwo (Directors' Representative)
e) Dr Chidozie Nsoedo (Directors' Representative)
SPECIAL BUSINESS:
"That Non-Executive Directors' Fees of N152,692 per annum for the Chairman and N118,106
per annum for each of the other Directors be and is hereby approved.
Cutix PLC specializes in PVC single cables, PVC Power Cables, PVC Flexible Cables, PVC Flat Cables, PVC Insulated Single/Double Sheathed-Core Aluminum Cable, armored Cables, Non-armored Cables, Aluminum Cables, Automotive Cables, Bare Stranded Copper conductors.
The Cutix PLC Story started in 1981 when Dr. (Engr.) Ajulu Uzodike decided to leave Raychem Corporation, a major international manufacturer of aircraft & military wires and accessories, to set up an indigenous firm to manufacture electrical cables and switchgear assemblies.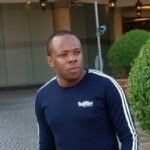 Nnamdi Maduakor is a Writer, Investor and Entrepreneur