Seplat Energy Plc has entered into an agreement to acquire the entire share capital of Mobil Producing Nigeria Unlimited (MPNU) from Exxon Mobil Corporation Delaware. This is contained in notification signed by Mr. Emeka Onwuka, the Chief Financial Officer of Seplat Energy Plc.
Seplat Energy Plc (NGX: SEPLAT) is Nigeria's leading indigenous energy company. It is listed on the Premium Board of the Nigerian Exchange and the Main Market of the London Stock Exchange.
In November 2021, Investogist reported that Seplat Energy Plc in talks to acquire ExxonMobil's Nigerian shallow water business.
According to the notification posted on the Nigerian Exchange, and sighted by Investogist, the completion of the transaction between Seplat and ExxonMobil is subject to Ministerial Consent and other required regulatory approvals.
Transaction Summary:
Seplat Energy Offshore Limited, a wholly owned Nigerian subsidiary of Seplat Energy Plc, has entered into a Sale and Purchase Agreement to acquire the entire share capital of MPNU for a purchase price of $1,283 million plus up to $300 million contingent consideration, subject to lockbox, working capital and other adjustments at closing relative to the effective date.
The Transaction encompasses the acquisition of the entire offshore shallow water business of ExxonMobil in Nigeria, which is an established, high-quality operation with a highly skilled local operating team and a track record of safe operations, producing 95 kboepd (W.I.) in 2020 (92% liquids).
The transaction is expected to create one of the largest independent energy companies on both the Nigerian and
London Stock Exchanges, and bolster Seplat Energy's ability to drive increased growth, profitability and overall stakeholder prosperity.
MPNU operating portfolio in Nigeria primarily consists of:
A 40% operating ownership of four oil mining leases (OMLs 67, 68, 70, 104) and associated infrastructure
(NNPC is the 60% partner)
The Qua Iboe Terminal, one of Nigeria's largest export facilities
51% interest in Bonny River Terminal and Natural Gas Liquids Recovery Plants at EAP and Oso
It does not include ExxonMobil's deep-water assets in Nigeria
MPNU will operate as a standalone subsidiary of Seplat Energy and upon closing and following receipt of
requisite regulatory approvals, Seplat Energy will align MPNU with its overall strategic goals and ESG objectives
The Transaction is subject to customary closing conditions for a transaction of this nature, including Ministerial
Consent and regulatory approvals from the Nigerian Upstream Petroleum Regulatory Commission and the Nigerian Federal Competition and Consumer Protection Commission.
The Transaction is classified as a reverse takeover for the purposes of UK Listing Rules relating to the Company's
listing on the London Stock Exchange. Upon completion of the Transaction, Seplat Energy will need to re-apply for admission to the Official List. Accordingly, Seplat Energy will prepare a prospectus in respect of Seplat Energy as enlarged by MPNU in connection with the required re-application for listing of such shares on the Official List and to trading on the London Stock Exchange's Main Market for Standard-Listed securities.
Under the Sale and Purchase Agreement, Seplat Energy will pay a deposit of $128 million, which will be applied
towards the purchase price on closing. If the Transaction does not proceed, the deposit will be repaid to Seplat
Energy where the agreement is terminated by Seplat Energy in certain circumstances.
The Transaction will not result in any changes to the Board of Seplat Energy. The Company currently expects the
Transaction to close in H2 2022.
Speaking about the transaction, Dr. Bryant (ABC) Orjiako, Chairman of Seplat Energy said;
"This is a transformational acquisition for Seplat Energy that strengthens our partnership with the national oil
company, the NNPC, and consummates the spirit of the newly enacted PIA.

"As a significantly larger business, with a stronger resource base and greatly enhanced capabilities, we will be
better positioned to provide sustainable energy solutions that drive growth and profitability for the benefit of all our stakeholders, particularly our host communities and the wider Nigerian economy.

"We fully support the aims of the Federal Government's "Decade of Gas", and this acquisition will accelerate our
development of Nigeria's gas resources to help achieve a just transition for our rapidly growing country."
At 10:00 GMT / 11.00 WAT on 25 February 2022, Seplat Energy's Executive Management team will host a
conference call and webcast to present the proposed Transaction.
The webcast can be accessed remotely via a live webcast link and pre-registering details are below. After the meeting, the webcast recording will be made available and access details of this recording are also set out below.
A detailed investor presentation summarising the Transaction will shortly be made available on Seplat Energy's
website at http://seplatenergy.com/.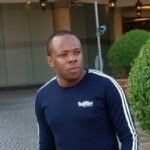 Nnamdi Maduakor is a Writer, Investor and Entrepreneur