The Nigerian Equities market returned to gains after the negative performance on Wednesday. The All-Share Index advanced by 0.14% to close Thursday's trading at 47,272.04 points.
Investors' wealth got N34.90 billion added to it as the market capitalization settled at N25.47 trillion.
For the fourth day in a row, Investogist Analysts observed a high number of gainers. The ability of the local bourse to record gains was due to a rise in the prices of high cap stocks, SEPLAT and NGXGROUP.
SEPLAT share price rose by 7.49% to close at N859.90 while the share price of NGXGROUP rose by 7.17% to close at N26.15.
There was no noticeable impact of the war in Europe on the NGX performance, a war that follows Russia's "special operation" in Ukraine.
Activity Level
The activity improved on Thursday, as both the number of shares as well as the value of the shares traded increased.
340.67 million units of shares valued at N3.85 billion was traded in 5,383 deals. While the volume of shares traded increased by 47.70%, the value of traded shares increased by 10.44%.
CUSTODIAN, STERLNBANK and FIDELITYBK Shares were the most traded by volume with 39.16mn, 33.35mn, and 22.39mn shares respectively.
Shares of MTNN, NGXGROUP and SEPLAT were the top three most traded shares by value. Shares worth N588.81mn, N404.11mn, and N336.56mn of MTNN, NGXGROUP and SEPLAT respectively were exchanged.
Performance of Indices under our watch
The performance of the five indices under our watch are as below;
Banking Index: -0.27% (451.16 Points)
Industrial Goods Index: 0.00% (2,131.44 Points)
Consumer Goods Index: -0.61% (585.39 Points)
Oil & Gas Index: 3.85% (425.25 Points)
Insurance Index: 1.01% (190.68 Points)
The Year-to-Date performance of the All-Share Index increased to +11.31% following Monday's loses.
Investor Sentiment
Investors sentiment as measured by market breadth (advance/decline ratio) remains strong at 1.6x, as 25 stocks gained while 18 stocks stocks declined, from 26 gainers and 16losers recorded on Wednesday.
Top Gainers:
ETRANZACT gained 10..00% to close at N2.42
LEARNAFRCA gained 9.92% to close at N2.66
SCOA gained 9.69% to close at N2.83
ROYALEX gained 9.62% to close at N1.14
RTBRISCOE gained 8.86% to close at N0.86
Top Losers:
MULTIVERSE lost 8.00% to close at N0.23
JAPUALGOLD lost 5.00% to close at N0.38
INTBREW lost 4.55% to close at N5.25
CHAMS lost 4.35% to close at N0.22
HONYFLOUR lost 3.87% to close at N3.73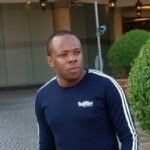 Nnamdi Maduakor is a Writer, Investor and Entrepreneur