Seplat Energy Plc has confirmed that it is in a competitive discussion to acquire ExxonMobil's Nigerian Shallow water business.
Seplat Energy Plc (NGX: SEPLAT LSE: SEPL) is a leading Nigerian energy company listed on the Nigerian Exchange and the London Stock Exchange.
The company was responding to recent press speculation through a press release on the Nigerian Exchange and London Stock Exchange, signed by Mr. Emeka Onwuka, Chief Financial Officer.
Together with its partner, SEPLAT and ExxonMobil are continuing deliberations on the aforementioned acquisition. At this stage of the deliberation, there can be no certainty as to the outcome.
The company promised to make further announcement when appropriate in line with regulatory requirements.
The discussions come as Exxon continues its strategy of selling off assets across Africa, Asia and Europe to focus on Guyana, Brazil and the US Permian Basin.
In Nov. 30, 2020, ExxonMobil announced that it had completed a review of its forward business plans and will prioritize near-term capital spending on advantaged assets with the highest potential future value, including developments in Guyana and the U.S. Permian Basin, targeted exploration in Brazil and Chemicals projects to grow high-value performance products.
In June, the oil giant relinquished its 80% interest in Ghana's Deepwater Tano Cape Three Points offshore block.
SEPL shares are up by +2.20% on the London Stock Exchange, trading at GBP 80.20 at the time of this report.
It closed flat at NGN 695.00 on the Nigerian Exchange Limited on Monday.
About the Company
Seplat Energy Plc is Nigeria's leading indigenous energy company. It is listed on the Premium Board of the Nigerian
Exchange and the Main Market of the London Stock Exchange.
Seplat Petroleum Development Company Plc ('Seplat' or the 'Company'), the parent of the Group, was incorporated on
17 June 2009 as a private limited liability company and re-registered as a public company on 3 October 2014, under the Companies and Allied Matters Act, CAP C20, Laws of the Federation of Nigeria 2004. The Company commenced
operations on 1 August 2010.
The Company is principally engaged in oil and gas exploration and production and gas processing activities. The Company's registered address is: 16a Temple Road (Olu Holloway), Ikoyi, Lagos, Nigeria.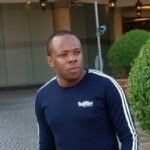 Nnamdi Maduakor is a Writer, Investor and Entrepreneur