On Thursday, 23rd February, Russian President Vladimir Putin on Thursday ordered military action in Ukraine in a televised address on Russian TV.
As the President spoke, Russian military were already in attack position or enroute to attack positions, because shortly after the address, missiles started raining down on several Ukrainian cities including the capital Kyiv.
While explosions were heard in Kyiv and gunfire rattled near its airport, Russian troops were landing on Ukrainian coast.
While missiles and bullets were flying in Ukraine, the Europe Union, The United States of America, and their allies ratcheted up their sanctions on The Russian Federation.
These sanctions targeting the Russian economy and multiple individuals in both Russia and the separatist regions of Ukraine are definitely going to affect some Non-Russian multinational companies operating in Russia.
Here are some of the International companies that have operations in Nigeria with exposure to Russia;
BASF: The German Chemicals maker co-owns Wintershall Dea – one of the financial backers of the suspended Nord Stream 2 gas pipeline – with Russian billionaire Mikhail Fridman's LetterOne investor group. It says it generates 1% of group sales from Russia. BASF subsidiary in Nigeria, BASF West Africa is located at 1 Illupeju Bypass Illupeju Industrial Estate Lagos.
BP: British Petroleum owns a 19.75% stake in Russia's national oil company Rosneft. It is the largest foreign investor in Russia, and also hold stakes in several other oil and gas projects in Russia. BP has no physical presence in Nigeria but sells its aviation fuel through 11 Plc.
Coca-Cola HBC: The company bottles Coke for Russia, Ukraine and much of Central Easter Europe. It employs 7,000 people in Russia. Nigeria Bottling Company bottles Coke in Nigeria and has multiple bottling plants across the country.
Engie: The French gas utility is one of five co-financiers of Gazprom (MCX:GAZP)'s Nord Stream 2. The Nord Stream 2 is a system of offshore natural gas pipelines in Europe, running under the Baltic Sea from Russia to Germany. It was supposed to bring Russian Gas to Western Europe bypassing Ukraine.
Equinor: The Norwegian company has minority stakes in three Russian oilfields. Equinor Nigeria has been in Nigeria since 1992, and played a significant role in developing deepwater oilfield Agbami, holding 20.21% stake in the field.  Equinor also operates OML 128 and 129.
Renault: The French carmaker has a 69% stake in Russian joint venture Avtovaz which is behind the Lada car brand and sells more than 90% of its car production locally. Renault vehicles are marketed by Coscharis Motors in Nigeria,
Shell: The Anglo-Dutch oil company owns 27.5% of the Sakhali-2 liquefied natural gas project, which has an annual capacity of 10.9 million tonnes and is operated by Gazprom. It's also one of the five co-financiers of Nord Stream 2.  Shell's subsidiary, The Shell Petroleum Development Company of Nigeria (SPDC) is the pioneer and leader of the petroleum industry in Nigeria. It has the largest acreage in the country from which it produces some 39 per cent of the nation's oil.
TotalEnergies: The French oil major is one of the biggest investors in Russia with a 19.4% stake in Russia's Novatek, a 20% interest in the Yamal LNG joint venture, 21.6% of Arctic LNG 2, a 20% stake in the onsHhore Kharyaga oil field and various holdings in the country's renewables, refining and chemicals sectors, according to its website. TotalEnergies Nigeria have  been active in the country for more than 60 years in oil and gas exploration and production, natural gas liquefaction and the marketing of products and services.
Mitsubishi Corp: The company distributes Mitsubishi Motor vehicles through some 141 dealerships in Russia and has a stake in Sakhalin II gas and oil development project that supplies Japan with liquefied natural gas (LNG) and trades coal, aluminium, nickel, coal, methanol, plastics and other material. It also supplies power plant equipment and other machinery to Russia. Mitsubishi Nigeria distributes its vehicles through dealership in major cities in the country.
Toyota: The company's plant in Saint Petersburg, Russia, makes Camry and RAV4 vehicles, and it has a sales office in Moscow. It has about 2,600 staff, including 26 Japanese nationals, at those locations. Toyota is the most popular vehicle driven in Nigeria. The company has multiple dealers spread across every part of the country.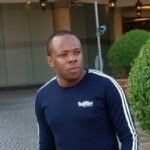 Nnamdi Maduakor is a Writer, Investor and Entrepreneur