Angela Merkel, the former Chancellor of Germany has stated that she is very sure that Putin is not going to just let Ukraine join NATO. She said that from Putin's perspective, Ukraine joining NATO would be a declaration of war.
Angela Merkel defended her Ukrainian policy while speaking in her first major interview since leaving office on Tuesday, during a stage event at the Berliner Ensemble theater.
Have you read? Brunel University London is offering family discount on tuition fees
In the interview conducted by Alexander Osang, a writer and journalist who writes for German news magazine Der Spiegel among others, Merkel opened up on Ukraine, Putin and her legacy.
Merkel refused to apologize for her policies towards Russia, however, she stressed that there was no justification for Russia's invasion of Ukraine.
"It's an objective breach of all international laws and of everything that allows us in Europe to live in peace at all.

If we start going back through the centuries and arguing over which bit of territory should belong to whom, then we will only have war.

That's not an option whatsoever," Merkel said.
Speaking on her relationship with Putin, she insisted that she had not been naive in her dealings with Russia.
"Diplomacy isn't wrong just because it hasn't worked," she said.
She went on to say that winning Putin over by trade promises was something she never believed in. In her view, "Military deterrence is the only language he understands."
Putin, she said, "hated" the Western model of democracy and wanted to "destroy " the European Union.
On Ukraine, Merkel defended her opposition to Ukraine and Georgia joining NATO in 2008. At the time, NATO pledged that the two countries would join at some point in the future, but declined to trigger the "membership action plan" to let them join the alliance within 5 to 10 years, in what became known as the Bucharest declaration.
She said that if NATO had granted them membership, Russian President Vladimir Putin could have caused "enormous damage in Ukraine."
Merkel also cited systemic corruption issues in Ukraine as reasons to block their membership.
Russia would go on to invade Georgia less than 6 months after the declaration in Bucharest.
Merkel said that the war in Ukraine did not come as a surprise. She went further to state that by the end of her chancellorship, it was clear that Russia was moving in the direction of conflict.
By then, "the Minsk Agreements were eroded," the former chancellor stated, referring to the 2014 ceasefire deal brokered by Germany and France, which were designed to give the eastern regions special status within Ukraine.
She also said her efforts to establish another dialogue platform for Russia and the EU in 2021 had come to nothing.
"I wanted, together with [French President] Emmanuel Macron, to create an independent European discussion format with Putin through the European Council," Merkel said, explaining that she faced opposition from other members of the EU's top body.
"I no longer had the strength to assert myself," she noted, as everyone knew she was about to step down.
Merkel said that she still believes that Berlin should not be the "first nation to send state of the art tanks" to Kiev as it would only damage Berlin's relations with Moscow.
"Russia would then be only further set against Germany," she said.
Merkel faced criticism at home over the conflict for supposedly making the German economy too reliant on Russian gas. The ex-chancellor defended her decisions, saying that buying gas from Moscow was the best way towards a green future and the move away from coal.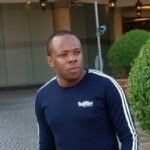 Nnamdi Maduakor is a Writer, Investor and Entrepreneur