Presco Plc posted an impressive financial statements for the first of the year, with increased revenue and profit after tax in defiant to the economic crisis of Covid-19 pandemic.
According to the condensed interim financial statements for the six months period ended 30 June 2020, released by the company to the Nigerian Stock Exchange (NSE) and the investing public on Friday, revenue for the period rose by 29.37% with profit after tax rising by 70.511%.
The company's revenue increased to N13.458 billion from N10.405 billion recorded in H1 2019, while profit after tax jumped to N4.390 billion (32.61% net profit margin) from N2.574 billion posted in the same period in 2019.
The net profit margin in H1 2020 is higher than 24.74% net profit margin registered by the company in H1 2019. The improvement in the net margin can be attributed to cost control measures. The basic EPS rose to N4.39.
Have you read?
Presco cost of sales in H1 2020 amounted to N4.417 billion ( 38.82%  of revenue), thus the gross profit stood at N9.042 billion (67.18% of revenue).
In the expense column, it was observed that;
Administrative expenses dropped to N1.895 billion from N2.399 billion in 2019
Selling and distribution expenses declined to N184.403 million from N224.881 million in 2019
Finance cost decreased to N831.799 million from N910.499 million in 2019
The "other gains and losses" rose to N363.223 million from N122.719 million in 2019.
A review of the balance sheet showed that total assets declined to N70.204 billion as at 30 June 2020 from N71.010 billion as at 31 December 2019. The decline is due to drop in cash and cash equivalents to N4.516 billion from N5.934 billion, plus a drop in trade and other receivables to N6.458 billion from N6.832 billion despite increase in inventories to N4.260 billion from N3.290 billion.
The company's total liability dropped by over N5 billion to N37.926 billion from N43.122 billion mainly due to decline in the current liabilities such as current borrowing which reduced by more than N4 billion.
45.98% of the Presco total assets is financed by equity as the total equity rose to N32.277 billion from N27.888 billion due to increase in the retained earnings to N30.646 billion.
Read also; Nigerian Breweries PLc makes N151.8 billion revenue in H1 2020 with 98% slump in Q2 profit
The cashflow section of the report showed that Presco is cash-strapped as it recorded a negative cash and cash equivalents at the end of period to the tune of minus N2.238 billion, largely due to minus N3.110 billion cash and cash equivalents at the beginning of the period.
The breakdown is as follows;
Net cash from operating activities – N6.297 billion
Net cash from investing activities – minus N3.391 billion due to acquisition of property, plant and equipment to the this amount.
Net cash from financing activities – minus N2.035 billion due to N4.899 billion spent on repayment of loan during the period with N833.57 million spent on interest payment although the company received a loan of N3.500 billion during the period.
Presco is into the business of palm plantation and processing. It is listed on the main board of the NSE under the agriculture sector. It has 1 billion outstanding shares with a market capitalization of N47,450,000,000.
The share price has remained unchanged at N47.45 per share since 20 July 2020, because its daily trading quantities are not enough to initiate a price change.
YTD the share price is down by just 0.11%. The 52 week high and low prices are N57.05 and N34.60 respectively. In two years it is down by 20.92% while in five years it up by 53.06%.
The six year price movement is shown below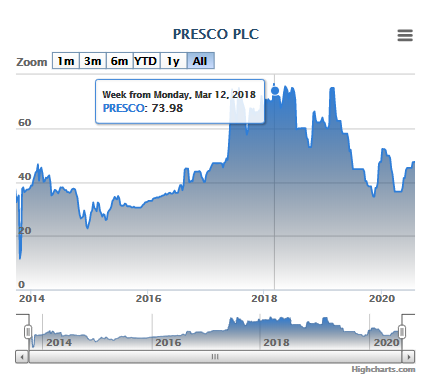 Written by;
Ifunanya Ikueze