UAC of Nigeria Plc (NSE: UACN) on Wednesday 29th July, released its unaudited financial statements for the period ended 30 June, 2020 to the Nigerian Stock Exchange and investing public.
The report seen by Investogist, show that in the first half of the year; January to June, UACN saw its revenue drop by 8.67%, from N40.112 billion reported in H1 2019, to N36.633 billion.
The drop in revenue is due to the drop in revenue from its Paint business segment (H1 2020: N4.236 billion, H1 2019: N5.235 billion) and the revenue from logistics segment (H1 2020: N0.00, H1 2019: N2.445 billion).
By reducing its cost of sale, the company was able to maintain a double digit gross profit margin, with a marginal drop of 1.7% from that recorded in preceding year. Thus, the company's Gross Profit dropped by 16.14% to N6.992 billion.
With a 23.92% increase in administrative expenses amongst other things, UACN's operating profit declined by 72.94%, from the N3.052 billion reported in H1 2019, to N0.826 billion.
The Profit After Tax (PAT) suffered even a steeper decline, it decreased by 93.45% to N213.819 million from N3.262 billion recorded in the same period in 2019. The Earnings Per Share (EPS) dropped from 70 kobo to 7 kobo.
Shareholders of this renowned company would have thought the quarters of loses where behind them when the company discarded its loss making real estate subsidiary; UAC Property Development Company Plc, unfortunately that has not turned out to be so.
UACN reported a Loss after tax of N562.019 million in the second quarter period; April to June, a 135.16% decline from the N1.598 billion reported in Q2 2019.
Although the Gross Profit Margin was 19.09%, marginally lower than the 20.79% reported in H1 2019, the Net Profit Margin declined significantly from 8.13% in H1 2019 to 0.58% in H1 2020.
A review of the company's financial position as at 30 June, 2020 shows that the company is still fundamentally strong, with a Total asset of N97.805 billion funded mostly by Shareholders Equity. Shareholders equity amounted to N59.085 billion in the period in review, which is 60.4% of total assets, while the total liability stood at N38.719 billion.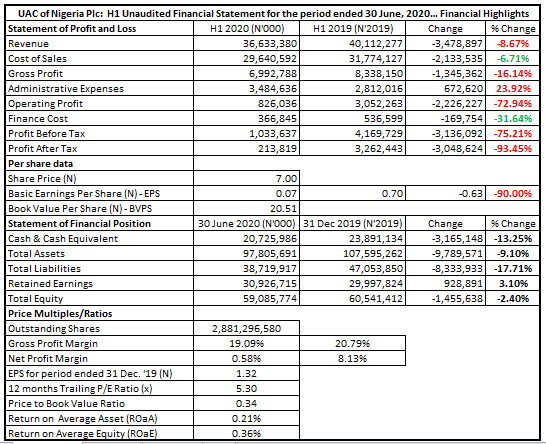 UACN's net cash flow generated from operating activities dipped, falling to N2.401 billion from N5.985 billion in H1 2019, according to the data on the unaudited consolidated statement of cash flow. Overall, the cash & cash equivalents at the end of the period after adjusting for bank overdraft stood at N26.725 billion (H1 2019: N26.417 billion).
UAC of Nigeria Plc and its subsidiaries is a company incorporated n Nigeria. The Group is a diversified business wit activities in the following principal sectors; Animal Feeds and Other Edibles, Paints, Packaged Foods and Beverages, Quick Service Restaurants, Logistics and Real Estate.
With a book value of N20.51, and a 12 months trailing P/E ration of 5.30x, UACN is still an attractive proposition for long term investors. Analysts' at Investogist have a BUY rating on the Stock with a minimum fair value of N7.20. It has a 52 week high price of N11.15 and a 52 week low price of N4.50.
Written by;
Nnamdi M.