Nestle Nigeria Plc (NSE: NESTLE) reported a revenue N141.02 billion for the first half year, ended 30 June, 2020, a negligible 0.62% drop from the N141.909 billion reported in H1 2019.  This was contained in its unaudited financial statements for the period ended 30 June, 2020 released to the Nigerian Stock Exchange and public on 29th June.
Despite the economic restrictions brought about by the Covid-19 Pandemic, NESTLE did not experience any significant impact in its sales. Revenue from Nigeria in the period in review was N138.073 billion (H1 2019: N139.767 billion), while revenue from export was N2.951 billion (H1 2019: N2.142 billion).
An increase of 5.75% in the company's cost of sales, brought about a 7.93% reduction in the gross profit; down to N60.837 billion from N66.080 billion reported in 2019. Its Gross Profit Margin remained strong and well above other companies in similar industry at 43.14% (H1 2019: 46.57%).
The company was able to achieve a reduction in the marketing and distribution expenses, but this was offset by a 50.68% increase in the administrative expenses. Ultimately, it posted a Profit After Tax (PAT) of N21.825 billion, a 16.84% decline from the N26.246 billion reported in the same period in 2019.
A review of the company's balance sheet shows that the total asset remained the same at N193.551 billion, and this asset is being funded by N137.842 billion liability and N31.669 billion Shareholders equity as at 30th June 2020.
A review of the statement of cash flow shows that the company generated N47.149 billion cash from operating activities (H1 2019: 66.653 billion). Having undertaken no major acquisition of property, plant and equipment, the net cash used in investing activities dropped to N2.041 billion from N12.328 billion recorded in H1 2019.
Net cash used in financing activities also reduced to N5.187 billion, from the N47.743 billion used in the same period in 2019. This reduction is due to the fact that while Nestle paid 2018 financial year final dividend on  29 May 2019 thus reflecting in the H1 2019 cash flow statement, the dividend for 2019 financial year was paid on 2 July 2020 and will reflect in the 9M 2020 financial statement.
Overall, the company reported a 234.48% increase in cash and cash equipment; N23.340 billion in H1 2020, up from N6.978 billion recorded in H1 2019. It is worth noting that had the company paid the proposed dividend of N45.00 per common share to shareholders in H1 2020, that would have amounted to N35.669 billion.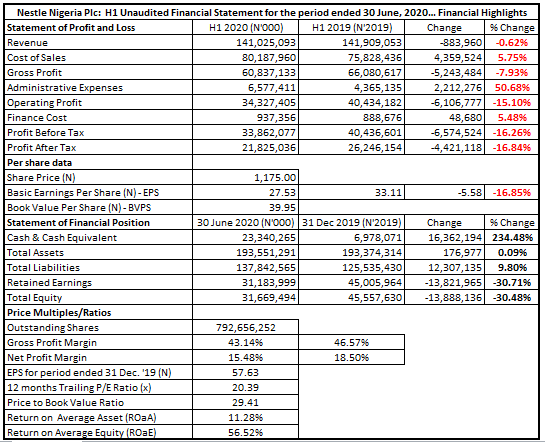 The statement of profit and loss for the second quarter period (April to June) showed that there was no impact of the business restrictions on the company's revenue. It reported a revenue of N70.695 billion Q2 2020, just a decline of 0.35% from the N70.942 billion reported in Q2 2019.
PAT decreased by 20.67% to N10.629 billion, from N13.399 billion recorded in the same period in 2019.
Nestlé Nigeria Plc ("the Company") is a Company domiciled in Nigeria. The address of the Company's registered office is at 22- 24, Industrial Avenue, Ilupeju, Lagos. The Company is listed on the Nigerian Stock Exchange.
The principal activities of the Company continue to be the manufacturing, marketing and distribution of food products including purified water throughout the country. The Company also exports some of its products to other countries within and outside Africa.
Analysts at Investogist have a SELL rating on Nestle Nigeria Plc, with a fair value range of N416.00 – N499.20. The share price has a 52 week high of N1,469.90 and a 52 week low of N764.90.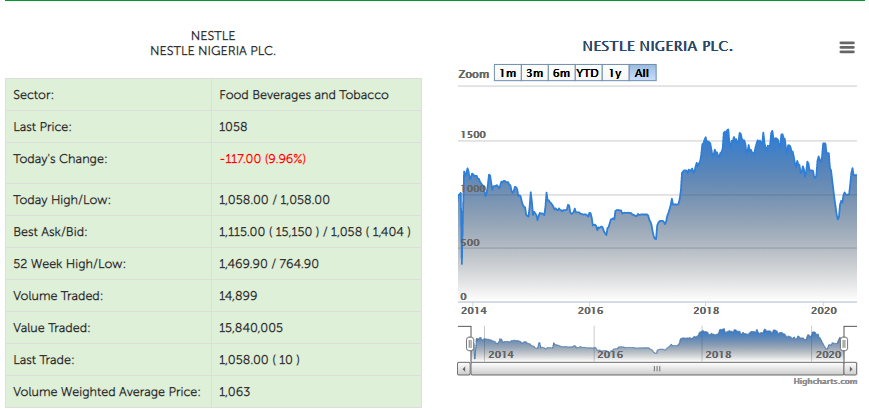 Source: Mytradebook
Written by;
Nnamdi M.