California Democratic Senator, Dianne Fienstein has died at the age of 90.
She was first elected to the Senate in Nov. 1992, and has served as one of the Senators representing California ever since.
Also read; Air Force Bombs IPOB/ESN camps in Orsumugho-Anambra, Okigwe-Imo
Feinstein was present in the Senate on Wednesday and cast a vote at 11:45 a.m. ET, according to the congressional record. However, she missed two votes later in the afternoon.
The longtime senator had suffered from extensive health issues for more than a year, leading many to wonder about her fitness for office. Her cause of death was unclear as of Friday morning.
"Sadly, Senator Feinstein passed away last night at her home in Washington, D.C. Her passing is a great loss for so many, from those who loved and cared for her to the people of California that she dedicated her life to serving," Feinstein chief of staff James Sauls said in a statement.
"Senator Feinstein never backed away from a fight for what was just and right. At the same time, she was always willing to work with anyone, even those she disagreed with, if it meant bettering the lives of Californians or the betterment of our nation," he continued.
"There are few women who can be called senator, chairman, mayor, wife, mom and grandmother. Senator Feinstein was a force of nature who made an incredible impact on our country and her home state.
"She left a legacy that is undeniable and extraordinary. There is much to say about who she was and what she did, but for now, we are going to grieve the passing of our beloved boss, mentor and friend," Sauls concluded.
Her biography on her website stated that her career has been on of firsts.
She was the first woman president of the San Francisco Board of Supervisors, the first woman mayor of San Francisco, the first woman elected Senator of California, the first woman member and first woman ranking member of the Senate Judiciary Committee, the first woman to chair the Senate Rules and Administration Committee and the first woman to chair the Senate Intelligence Committee.
A native of San Francisco, Senator Feinstein served for nine years as a San Francisco County Supervisor, starting in 1969. She became mayor of San Francisco in 1978 following the assassination of Mayor George Moscone and Supervisor Harvey Milk.
The following year she was elected to the first of two four-year terms. As mayor, Dianne Feinstein managed the city's finances with a firm hand, balancing nine budgets in a row. In 1987, City and State Magazine named her the nation's "Most Effective Mayor."
Feinstein announced in February that she would not seek a sixth term as California's senior senator in the 2024 general election.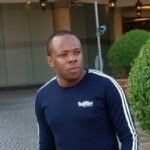 Nnamdi Maduakor is a Writer, Investor and Entrepreneur