A text of a draft of the statement from the summit of the seven leaders of G7 countries shows that the leaders will commit to providing indefinite support to Ukraine for its defense against Russia's invasion. This is according to a report by Bloomberg.
"We will continue to provide financial, humanitarian, military and diplomatic support and stand with Ukraine for as long as it takes," the text of a draft statement seen by Bloomberg said.
The G-7 leaders are also weighing the possibility of using revenues from tariffs on imports from Russia to support Ukraine, according to the document.
Earlier, leaders discussed how to coordinate action to tackle soaring inflation and ward off the threat of recession, as well as how to keep up the pressure on Russia.
With the war raging about 1,200 kilometers (746 miles) to the east of Schloss Elmau, where the summit is taking place, German Chancellor and host Olaf Scholz is also leading talks Sunday on addressing climate change and on infrastructure and investment.
US President Joe Biden at the summit rebooted his effort to counter China's flagship trade-and-infrastructure initiative after an earlier campaign faltered.
Biden's Build Back Better World initiative, named after his domestic spending and climate agenda, struggled to get off the ground because not enough G-7 partners contributed financially when it was unveiled a year ago, according to people familiar with its lack of progress. European officials cited the Biden administration's inability to get its own ambitious economic legislation through Congress.
The British Prime Minister, Boris Johnson says that a new Russian Gold Imports will be unveiled by the G7. In his meeting earlier with French President, Boris Johnson stressed that any peacefully resolution of the Ukraine-Russia conflict will do more harm than good.
Media reports earlier on Sunday stated that Britain, the United States, Japan and Canada will ban new imports of Russian gold as part of efforts to tighten the sanctions squeeze on Moscow for its invasion of Ukraine, the British government said on Sunday.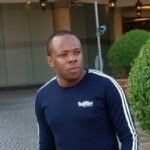 Nnamdi Maduakor is a Writer, Investor and Entrepreneur